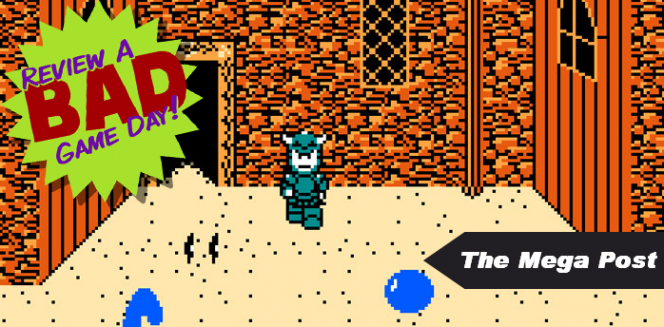 The Review A Bad Game Day Mega Feature
If you had not heard, there is a new gaming holiday called Review A Bad Game Day, August 8th, and yesterday was the inaugural occurrence. The event has its own official ReviewABadGameDay.com website and everything.
In the spirit of trashing more bad games, a few of us at 1MC thought we would combine a handful of original, exclusive shorter reviews into one "mega post" for the purpose of ending this year's festivities with a bang. Enjoy the carnage.
###
Shaq Fu
by Alex Theriault, Re-Release Review columnist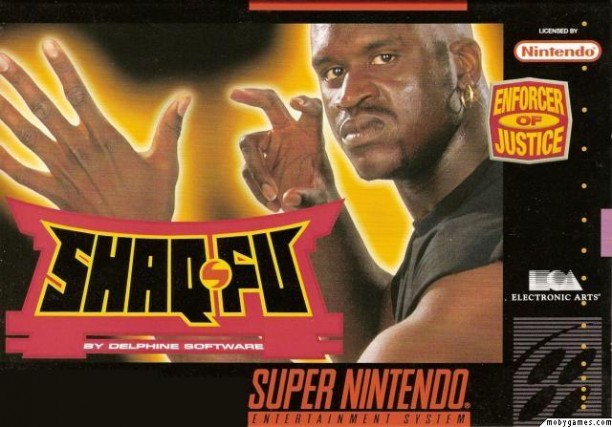 Sitting in NYC, my friend pulls out his SNES and says to me, "Wanna game?" Never to pass up a game I say sure and he plugs in an old copy of Shaq Fu. I blatantly protest to the idea of playing this sin against the great fighting gods, but he assures me, "This isn't the version you're thinking of."
The story is basically Shaq is somewhere in Asia for no reason and steps into a dojo, mistaken as a hero, and sent to some alternate dimension to save a little boy. It's like a terrible episode of Dr. Who, but I digress.
The controls are simple for the most part with the basics mapped out to the face buttons, L being to teleport to and from your opponent (surprisingly incredibly useful), and the R button is death incarnate. The taunt button, leaving you completely open to your opponent's mercy. Take that right index finger away, right now, and don't ever look back.
Cons of this game is you'll see all your AI opponents do sweet stuff like summon cheetahs, throw swords, and conjure lightning up in your face… and you'll never be able to do it ever. Second, while single player may be alright against the regular goons, never will you face a cheaper final boss.
I'll be honest though, if you're looking for a hilariously good time, multiplayer with some friends cannot be beat. You will both want to throw your controllers together; you'll laugh at the cheesy plotlines, you'll cringe at the terrible audio, you'll mock the Sega Genesis plebes with their inferior version, but you're going through this pain together, and you're going to enjoy the hell out of it.
###
 Sneak 'n Peek
by Paul Potvin, The Fair Shake columnist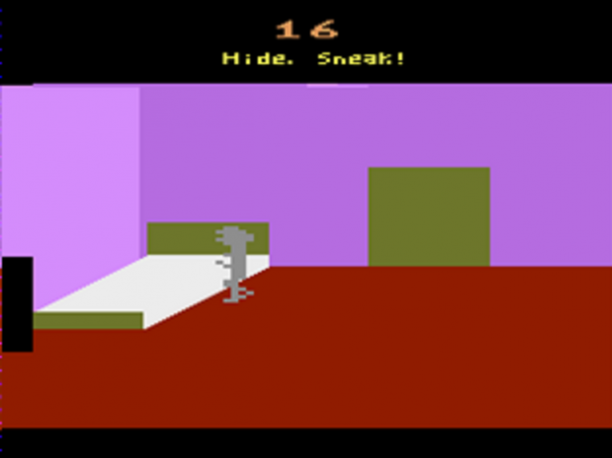 Two friends are sitting on a couch, bored. One says to the other, "Let's play video games." The other replies, "Ehhh, I don't know, let's DO something, like play hide 'n seek." So they compromise and pull out Sneak 'n Peek. The friendship dissolves. Want to know why? Try the game. I don't have to even describe the game, but I will. It's like hide 'n seek, but with a video game. Just close your eyes as your friend hides, then try and find him before time runs out. That's it. Ok, if it had stellar graphics (it doesn't), great sound (it doesn't) or amazing play control (what's hit detection?), it might have been at least passable. In a parallel universe, this is a popular MMO. As an Atari 2600 game, it's sad.
###
Fisher-Price Firehouse Rescue
by Atsinganoi, Atari Poop columnist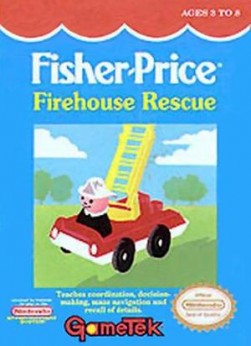 What starts with "f" and ends with "uck"?  One answer is "firetruck," which is what you'll be controlling in this game, but even it cannot possibly douse this flaming turd of a game and wash away all of the terrible contained within it.  You think that mixed metaphor is bad? It's a beautiful sonnet in comparison to this game.  The other answer, the one you probably all thought of, is the word you'll use most often while playing this game, often preceded by "WHAT THE."
Fisher-Price Firehouse Rescue for the NES takes the concepts of fun and education, and has them kidnapped, locked in an abandoned warehouse in China, and fed a steady diet of fish-heads and crippling despair, all in an effort to keep them as far away from itself as possible.  First of all, there are no fires in this game.  ZERO.  You just spend your time rescuing people from non-burning houses. In later levels (there are only 4), you even need to find the key to the house (lying in the street many blocks away from the house) before you are allowed to not enter the house and save people by pulling your ladder up to their window.
Seriously though, the game has no music other than the circus music for the intro screen, no fires, super boring gameplay, and absolutely no educational value.  It is truly one of the worst, if not the worst, game I've ever played.
###
Ghostbusters
by Eric Bailey, co-founder and Editor-In-Chief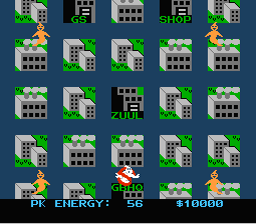 The following is the transcript of a meeting that took place in November of 1988 at the offices of Bits Laboratory, who developed the video game that would eventually be known as Ghostbusters on the Nintendo Entertainment System.
Stupidsauce McMoron: Good news, guys! We got the Ghostbusters license!
Idiot LeTurd: Fantastic! That is a very popular media license, with thousands upon thousands of fervently loyal fans!
Dummy DumDumFace: This is great, because the subject matter is creative, dynamic, and exciting. It should naturally lend itself well towards the creation of a distinctive video game experience.
Jeff Stonburg: Great point – The possibilities are endless! So, what should we do with this blockbuster license full of colorful characters, explosive action, and intriguing plot elements?
Stupidsauce McMoron: Well, what's popular on the NES right now?
Idiot LeTurd: Platformers, mostly. A lot of beat-'em-ups, shooters, sports sims, that sort of thing.
Dummy DumDumFace: Then we should probably avoid those genres. They sound over-saturated already, and we really want to stand out as something different.
Jeff Stonburg: Good call. We want this to be unique, we want this to be unlike anything else out there.
Stupidsauce McMoron: Oh, yeah! I like where this is going! What hasn't been done before?
Idiot LeTurd: OH MY GOSH GUYS I TOTALLY HAVE AN IDEA!
Dummy DumDumFace: What? What is it?!
Jeff Stonburg: Yeah, share with us!
Stupidsauce McMoron: I am so pumped and psyched and jacked and stoked right now. Absolutely blitzed out of my mind.
Idiot LeTurd: We should do a HYBRID-GENRE game! Like, like, uh, I dunno, but, take two genres, and…
Dummy DumDumFace: Y'know, there have really not been that many economic simulators on the NES. We need to make Ghostbusters a game where the player has to carefully manage their inventory and finances.
Jeff Stonburg: Hm. That has potential.
Stupidsauce McMoron: AND DRIVING. WE MAKE IT AN ECONOMIC SIMULATOR GAME WITH DRIVING PORTIONS.
Idiot LeTurd: HOLY AMAZEBALLS THAT IS THE MOST BRILLIANT THING I HAVE EVER HEARD.
Dummy DumDumFace: Whoa, guys, hey, listen: Do you realize what this means? This means we can make the player have to keep track of a time limit countdown, finances, AND HAVE TO REGULARLY GET GASOLINE TOO.
Jeff Stonburg: THIS IS GOING TO BE THE MOST DYNAMICALLY INTERACTIVE ELECTRONIC ENTERTAINMENT EVENT OF ALL TIME.
Stupidsauce McMoron: I AM POOPING MY PANTS WITH JOY RIGHT NOW. SOFT, WET LUMPS OF JOY.
Idiot LeTurd: This is truly unprecedented. This is going to be the best thing ever. Better than skateboarding.
Dummy DumDumFace: And if that isn't extreme enough, I say we even throw traditional control schemes out the window. If the player wants to climb stairs, screw the control pad – true NES players want to show how fast they can jam those buttons.
Jeff Stonburg: WE WILL MAKE THE PLAYERS PRESS THE BUTTONS OVER THREE THOUSAND TIMES JUST TO GO UP THE STAIRS.
Stupidsauce McMoron: HOLY @#$% WE ARE GENIUSES.
Idiot LeTurd: But, guys, c'mon, let's remember: We need to appeal to the true Ghostbusters fans. What will we do to make sure we appeal to both the hardcore gamers AND the casual bandwagon buyers?
Dummy DumDumFace: I know! WE SHOULD PLAY THE THEME SONG ON AN ENDLESS LOOP DURING THE ENTIRE GAME.
Jeff Stonburg: PERFECT.
Stupidsauce McMoron: People love that theme song!
Idiot LeTurd: We shall burn it into their brains. They shall never forget it. The  8-bit melody will haunt them in their dreams and be with them every waking hour of their miserable existence. Their very ancestors will wake from their eternal slumber with the chant of "Who you gonna call?"
Dummy DumDumFace: This has been an amazing meeting, folks. I think we all need to pat ourselves on the back. We're almost ready to really get started on this thing.
Jeff Stonburg: Yeah, but I think we need one more killer feature. Something to really set us apart from the establishment and fully convey just how radical and rebellious we are as developers.
Stupidsauce McMoron: TYPOS ON THE ENDING SCREEN.
Idiot LeTurd: MARRY ME.
Dummy DumDumFace: THIS GAME IS GOING TO BE BETTER THAN JOHN CANDY.
Jeff Stonburg: YOUR MOTHER IS GOING TO LOVE THIS GAME ALL NIGHT.