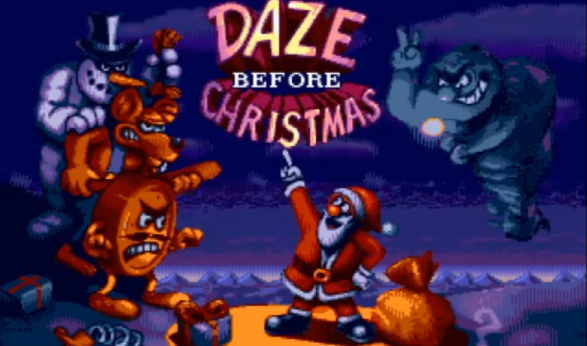 DAZE BEFORE CHRISTMAS
Last Christmas, I made a short, stupid little video in which I joked in an AVGN-style rant about the game Daze Before Christmas and how every time demon Santa enters his own bag (I'll get to that) it looks as if he's imploding into an oversized piece of dung.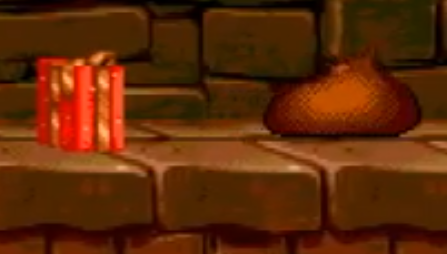 As you can tell, it's a year later and I've totally grown-up.

Well…
Anyway, Daze Before Christmas was a good game and I barely talked about it the first time around so I thought I'd treat y'all with more immature musings as well as a summary of why this rare Christmas-themed oddity is worth popping into your Sega Genesis.
The game gets pretty awesome, pretty quick.
Right after pushing the start button, in fact.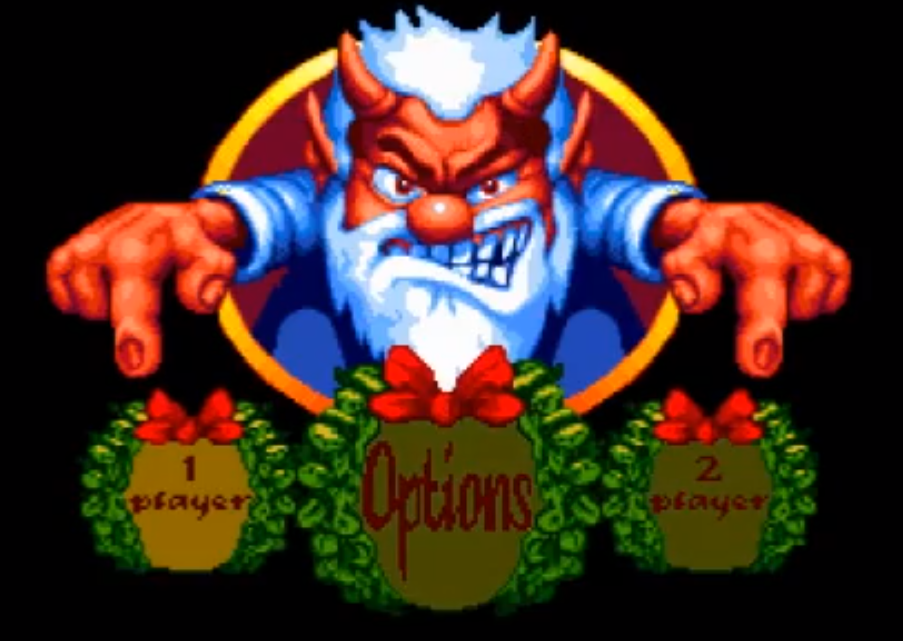 Yeah, that's what I'm talking about: Demon Santa showing you a bunch of options while looking intimidating as hell.
In this game, Santa Claus isn't all about candy canes, presents, milk and cookies and whatnot. No, he's got a creepy Jekyll & Hyde thing going where if he drinks a cup of coffee he turns all "Anti-Claus" and goes around looking mean and whipping his bag at people.
Well, mice and Rockbiters and stuff.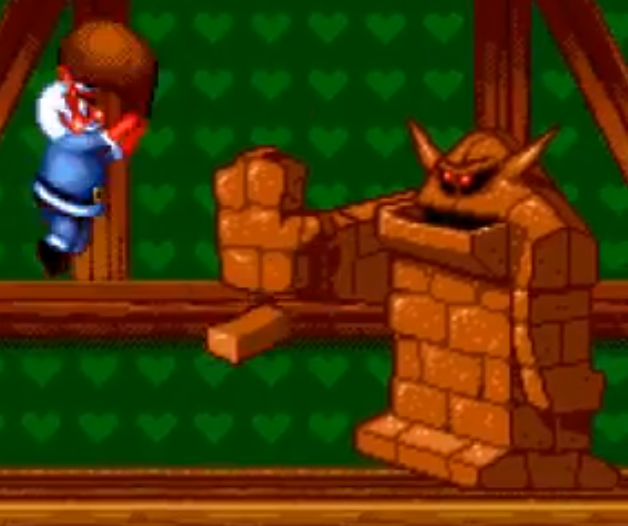 Oh, and Anti-Claus is also invincible.
Why isn't THAT a Christmas movie?
Tim Allen still has one more Santa Clause movie in him, I know it!
It's great  except that as Anti-Claus (Santa's evil twin I guess?) you can't pick up presents, use your magic or do anything useful. You turn back into Santa soon enough, though, so it's no big deal. I do think that trusting this twisted Santa with delivering presents to kids all over the world is a bit risky. What if he gets addicted to lattes?
Or worse: espressos!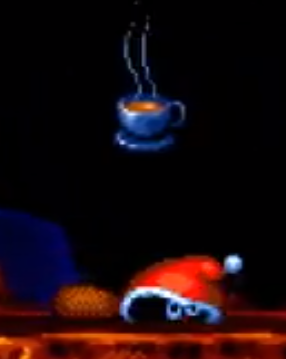 I shudder to think.
So you're on a mission to free your elves who appear to have been forcibly wrapped in presents by some evil snowman. Also, he's kidnapped your reindeer so you'll have to save everybody before you can go around the world and drop the presents you've picked up along the way into those conveniently lined-up chimneys. It's quite cool that in between sections of the game you get to actually control your sleigh and handle the present-dropping. It's a fun little side level and it's also pretty darn educational.
I mean, you get to visit England: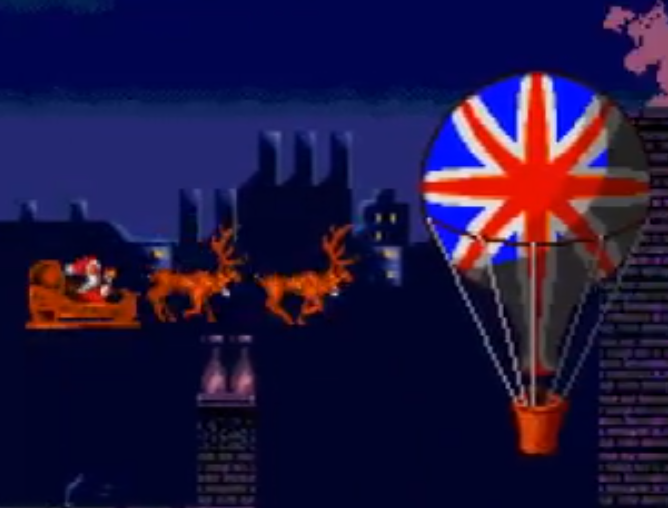 Land of patriotic hot-air balloons.
Russia: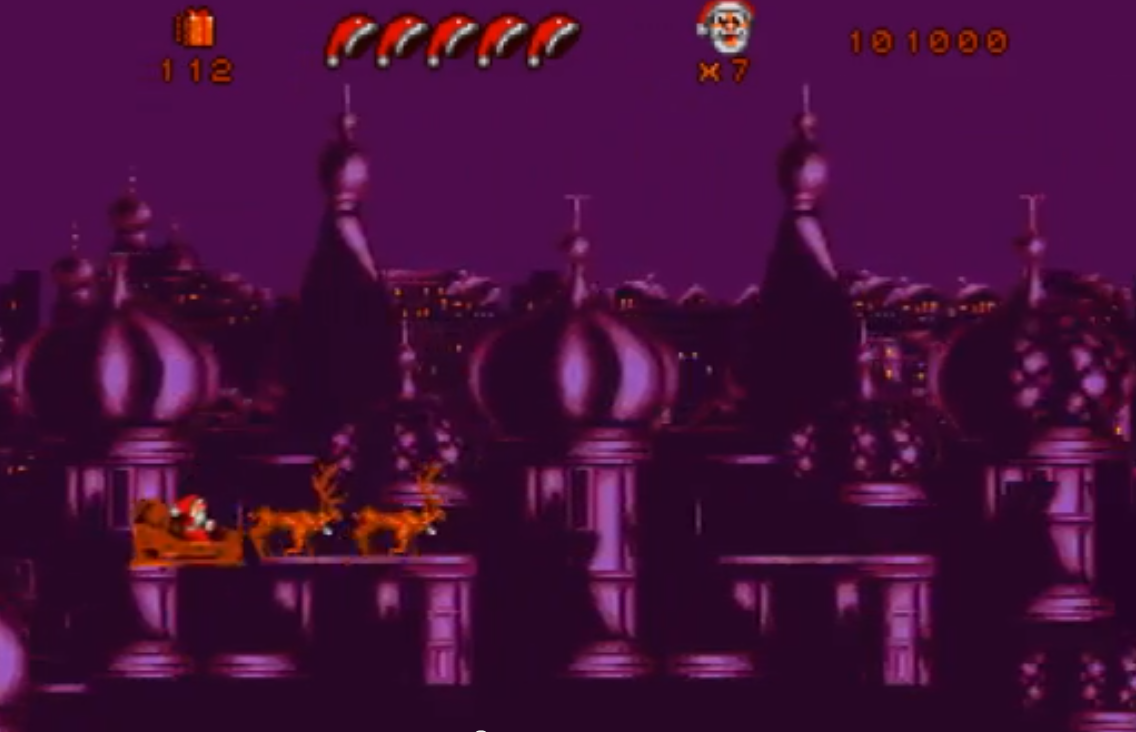 Where every city IS Tetris.
Also Japan: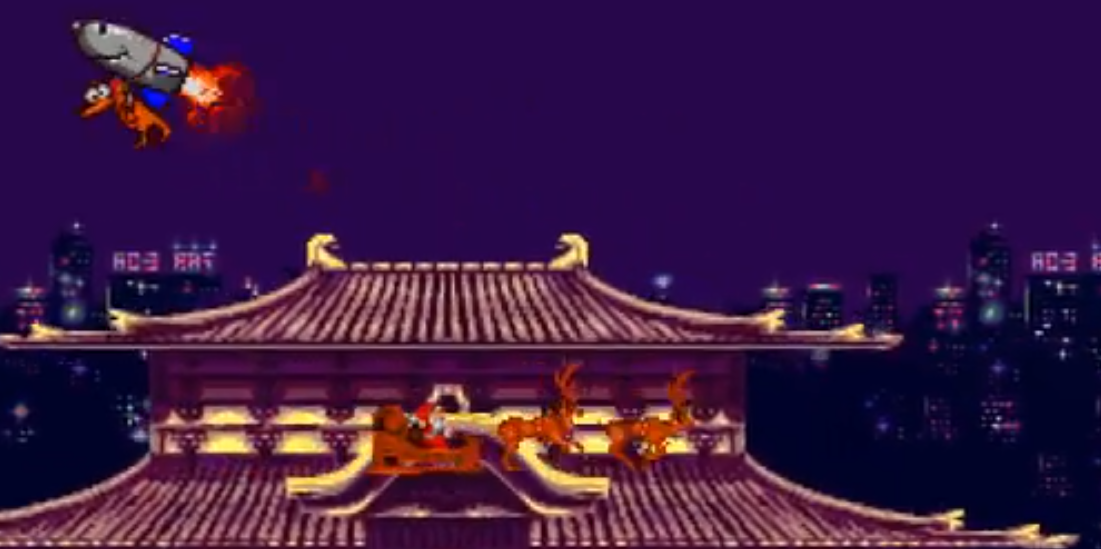 Land of space dogs.
And of course the US!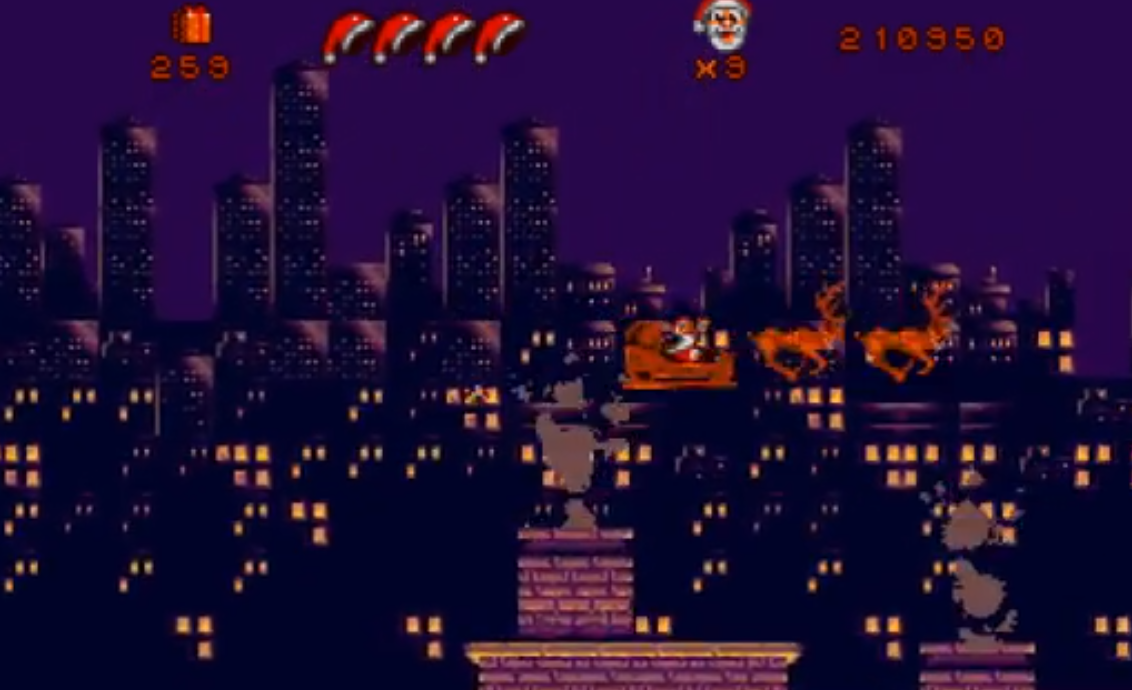 Land of Gotham City.
The game itself is really fun to maneuver and pretty easy as a whole. Definitely one you could finish in one sitting. You don't get too many different attacks, eventually you can shoot fire and as Anti-Claus, of course, you can use your bag but that's about it. Luckily the enemies aren't too tough to get rid of and the boss battles are very simple. Bosses usually have a very clear pattern and you're left with a very clear spot on where you can stand and take care of them.
Take a look at this clock dude (aka The Timekeeper):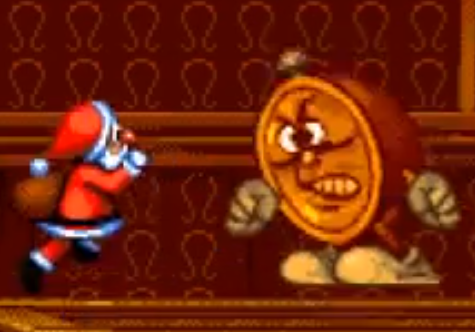 By  the way, isn't that shot just awesome?
It's the Lost finale all over again!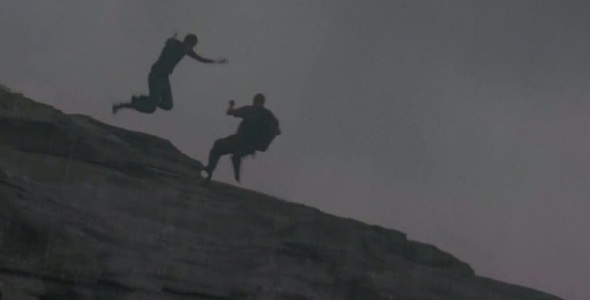 But better.
With The Timekeeper, he just rolls up and down on this ramp and you basically just have to stand over him and shoot him whenever he gets near.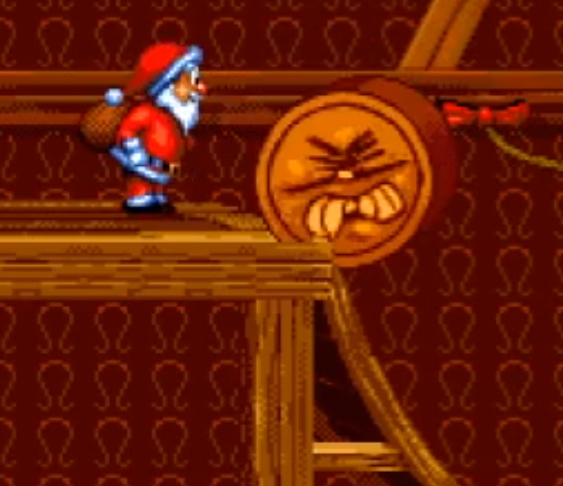 It's crazy-easy.
Even that evil snowman is a breeze: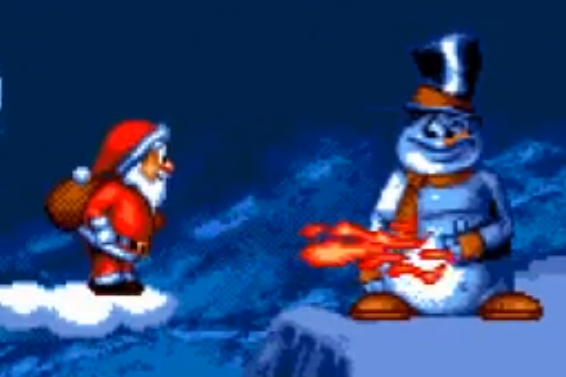 Fire that snowman crotch good.
And his face, if possible.
A lot of those bosses are pretty strange, come to think of it. One of them is so lame he's great. Ladies and gentlemen, I give you:
Mr Weather.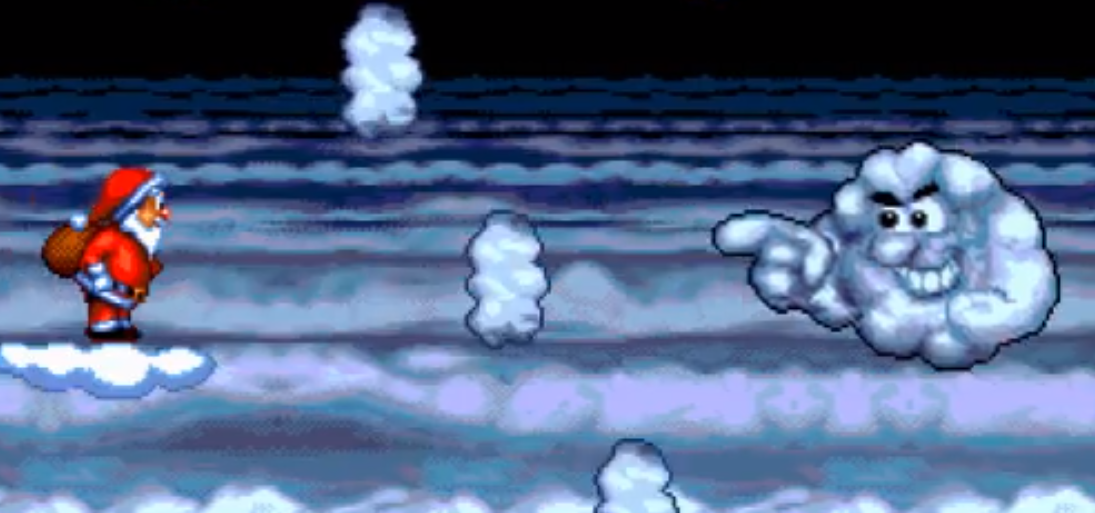 A cloud? Really?
Gotta love that mini cloud you can stand on and attack him from. Is Mr Weather allowing you to use that particular cloud? Why?! Can't he control the weather or… clouds at least? If not, then he's even more rubbish than his name suggests.
Other villains you face include some rat with a baguette straight out of Ratatouille…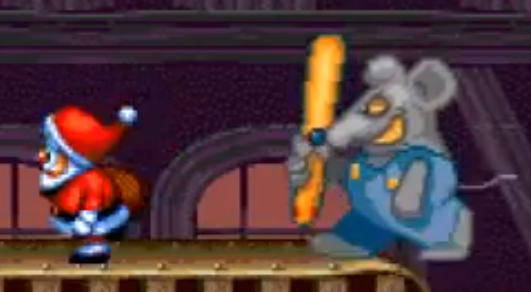 Angry vampire balls…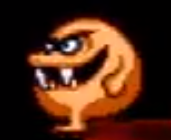 Angry frogs…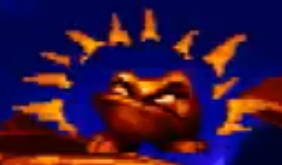 Penguins…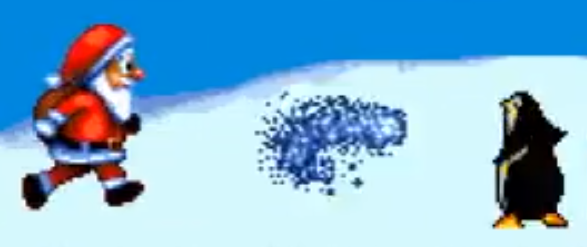 Ghosts…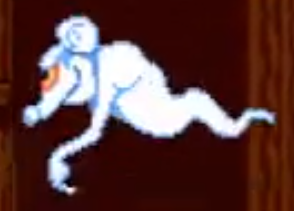 Electric Dudes…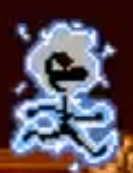 …and so on and so forth.
You get the idea: surreal madness.
No! Wait! I forgot hat rack guy!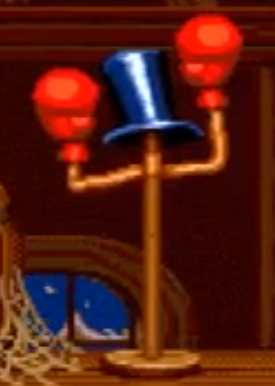 Yeaaaaaaaaaaaaaah.
He. Is. The MAN!
I like Daze Before Christmas because not only is it a genuinely well made game with its fluid gameplay, smooth animation, cool sound effects and hypnotic Christmas-themed score… But it's got a goofy sense of humour and it's super creative. I mean, how many other games can you name where you're Santa Claus riding a magic carpet?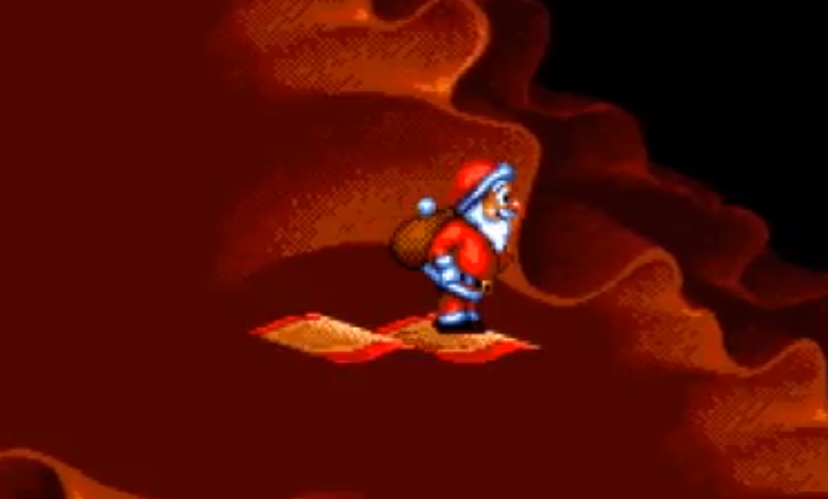 None, that's how many.
It's just a ton of fun and if it weren't super rare and super expensive (the box alone is like 50 bucks) then I'd be happy to have it as part of my collection. I like games that have a very clear concept and a very clear vision of what they want to be and Sunsoft really have managed to make the most of it.
Daze Before Christmas even makes the most boring or stupid sounding things look epic with its pre-level title cards.
Mr Weather? Sounds wimpy, right?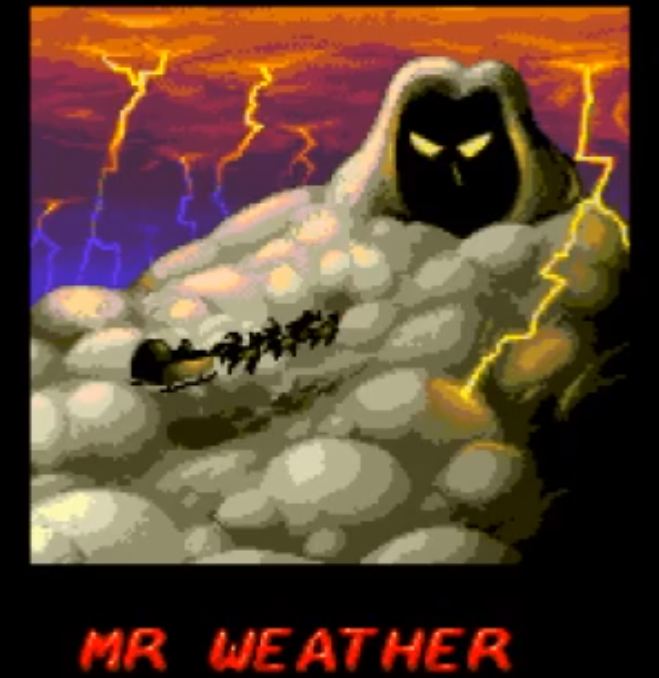 HOLY CRAP!
:O
Gift wrapping?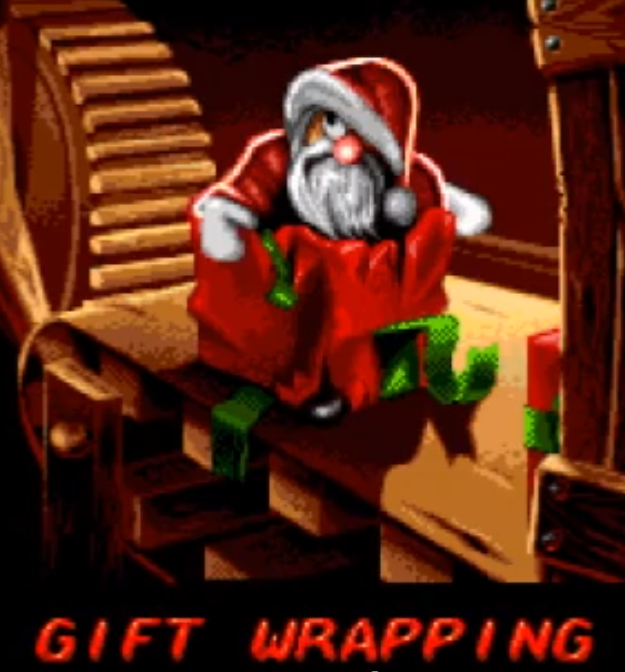 lol
Wood factory? Nothing sounds more boring than a wood factory, come on!
Unless…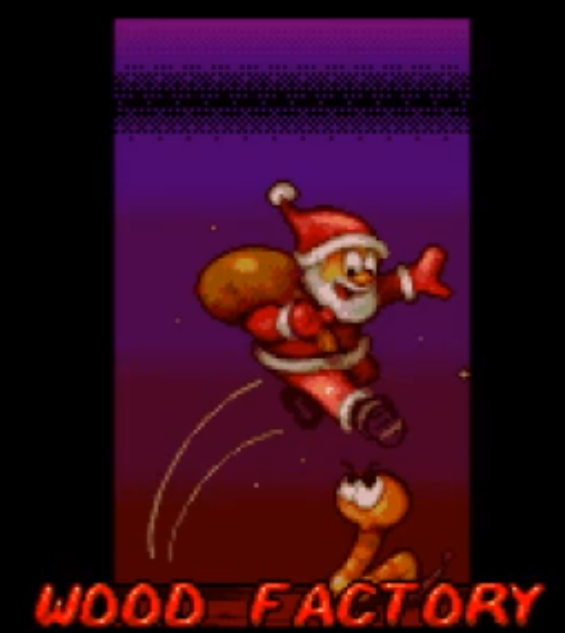 WORM!
Alright, I'll stop joking around and show you my favorite title card: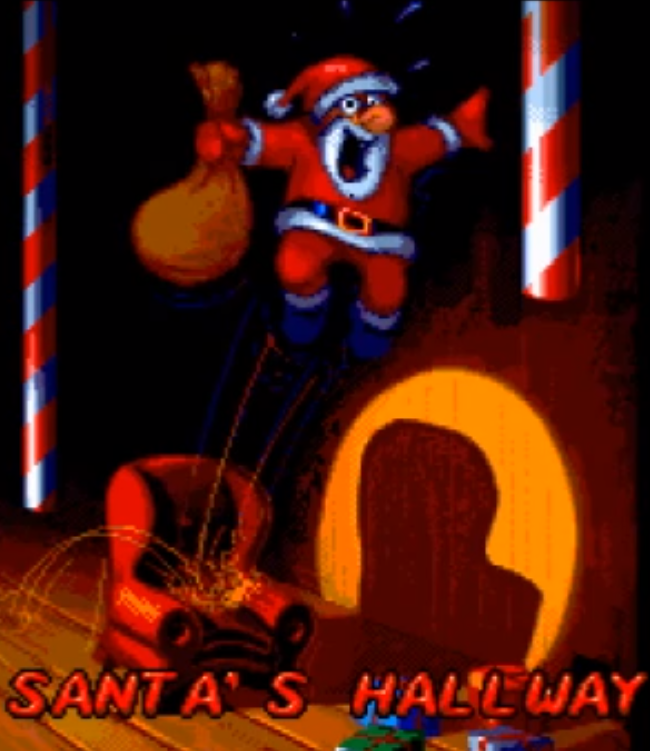 Jeesh!
Look at Santa's face!
He really LOVES that hallway!
(Santa's not well)
On that note, wishing you all a Merry Christmas and hoping that you do get a copy of Daze Before Christmas on Genesis or Super Nintendo under your tree. It's a great little game, and a festive one at that!
Much better than that awful Christmas memory game I tried the other day…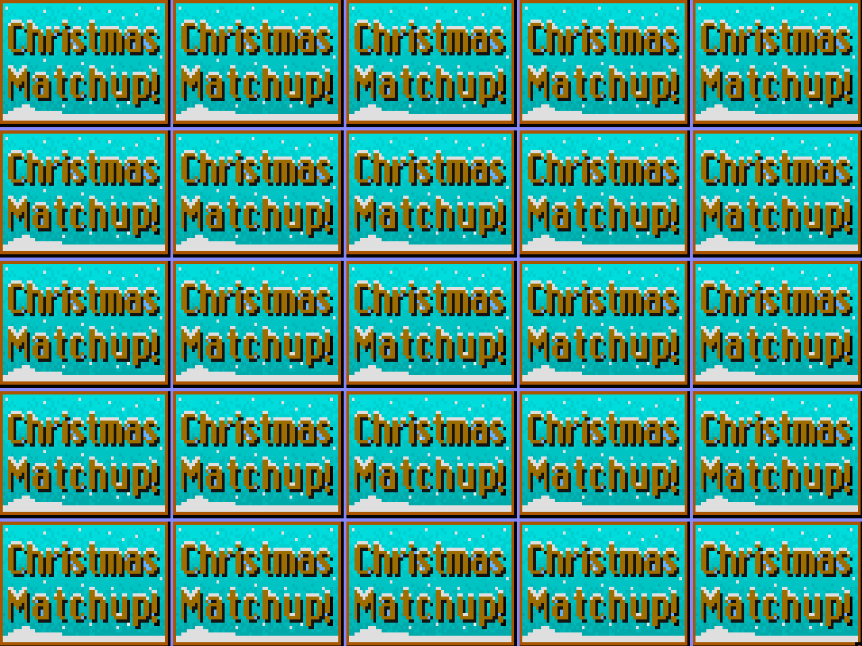 Fail.