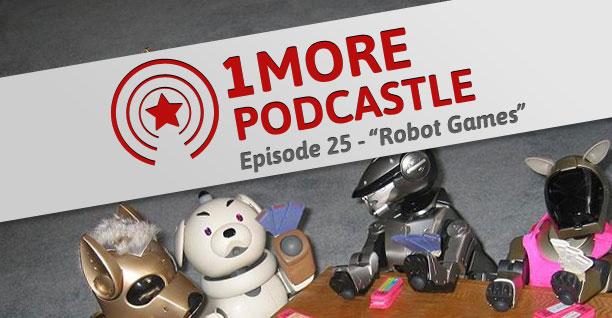 025 – Robot Games
Since Jason was out committing regicide, we've got Ryan of Retro Rampage filling in. He may be a robot. Then again, Hunter may be a clone and Bailey, well… let's just say we wouldn't not not  not not be not not surprised if he wasn't not an alien.
Our Intro and Outro music is by Ben Landis off his album Adventures in Pixels – "Credits Music for an 8 Bit RPG" (Twitter @thebenlandis)
The musical Interlude was iSv – "LIL 500"

17:34 – Listener discussion question "Do any of you like robot games? Or games with robots in them?"
23:57 – iSv – "LIL 500"
26:03 – Retro Showdown
27:03 – Ryan's pick "Rudra no Hih? [Treasure of Rudra]" (SNES)
28:30 – Hunter's pick "Ninja Warriors" (SNES)
30:01 – Bailey's pick "Red Alarm" (Virtual Boy)
30:40 – And the showdown begins!
59:54 – Cast your votes, leave us a comment below, and keep on keepin' on.