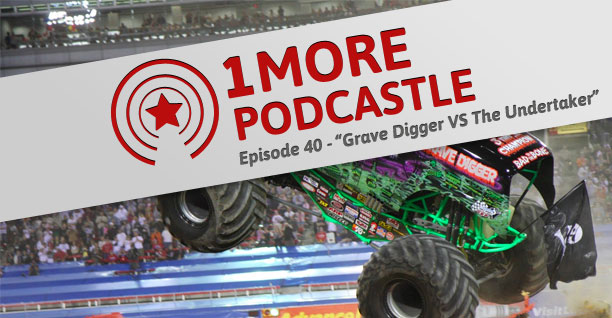 040 – Grave Digger VS The Undertaker
MONDAY, MONDAY, MONDAYYYYY: IT'S PODCAST TIME! TICKETS ARE STILL THE SAME LOW PRICE FOR ADULTS, AND KIDS GET IN FREEEEEEE! COME SEE YOUR FAVOURITE PODCAST STARS AS THEY NERD OUT ON AIRRRRRRR. BAILEY! HUNTER! JASONNNNNNNN!
Our Intro and Outro music is by Ben Landis off his album Adventures in Pixels – "Credits Music for an 8 Bit RPG" (Twitter @thebenlandis)
The musical Interlude was Scott Peeples "Dream Fighter"

18:40 – Listener discussion email question "Are there any games that you were great at playing as a kid but terrible at playing now?"
27:46 – Scott Peeples "Dream Fighter"
30:05 – Retro Showdown!
32:30 – Bailey's Pick "Earthworm Jim 3D" (Nintendo 64)
34:00 – Hunter's Pick "Darkstalkers 3" (Playstation)
35:32 – Jason's Pick "John Madden Football II" (PC/DOS)
35:53 – Our theme this week was the third game in its series. And yes, apparently John Madden 2 is the third game. We talk about this. I'm still don't believe him.
1:02:52 – You guys/gals know we love email right? And retro-style music? And voting in relative polls like the one below? We want all of that. Like now. So get on it, Internet!
Watch the unedited recording:
Play the audio episode: 
Update Required
To play the media you will need to either update your browser to a recent version or update your Flash plugin.