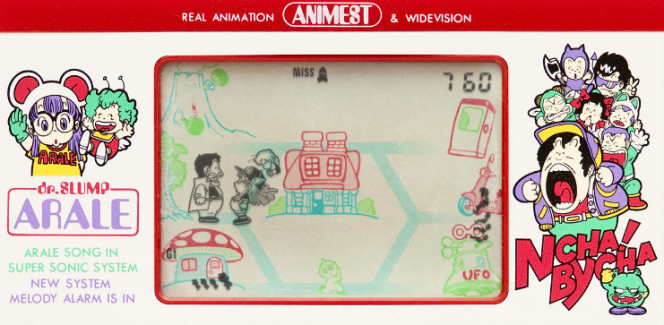 Dr Slump Arale: Ncha! Bycha
In case you can't tell, I went for obscure with this one.
So obscure in fact that the chosen game, based on a manga and an anime series, is on a platform I've, as yet, pretty much ignored.
Ladies and gentlemen, I give you Dr Slump Arale: Ncha! Bycha…
…the Tiger Electronics game.

The AVGN may have beaten me to it but I'd been wanting to mention Tiger Electronics games for a while. I guess I just  subconsciously kept those at the back of mind for fear of actually playing one of those "games" again. I mean, I had several Tiger Electronics games growing up but I can't recall even understanding any of them. They seemed simple enough and yet those I had, whatever they were, were so ugly and messy-looking that I basically just pressed buttons hoping something different would happen.
Most of the time, I was rewarded with an annoying sound effect.
Why Dr Slump, then?
Well, first of all I'm celebrating all things anime for Anime Month on my blog, so there's that, but also, that's a Tiger Electronics game I actually figured out pretty quickly! Maybe it's just because I'm older, maybe that particular game just makes more sense than others, I don't know. All I know is I played a game on that scary platform and I knew roughly what I was doing.
And it felt good.
The game sees you play as robot gal Arale as you go around a hexagon that's meant to represent a road, I suppose, and greet other characters including Arale's creator Senbei and an alien. Your goal is to greet each of these guys before they punch you on the head.
You do this by pressing the "NCHA" button.

Moving around the hexagon, at the centre of which is a little house, is very easy: just press the "TURN" buttons.
Because turning is the same as going up, down, left and right in Tigerworld, I guess.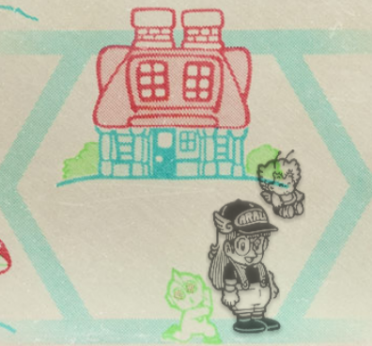 The graphics are about as primitive as you'd expect, with animation being replaced by still images popping in and out of the still background in black and white.
Luckily, the layout is simple to understand and the characters look like who they're supposed to look like.
That's definitely a plus.
Whenever a character is getting closer and closer to you, you see their silhouettes get bigger and bigger on the side of the screen:

Yes, some of them even look like foetuses: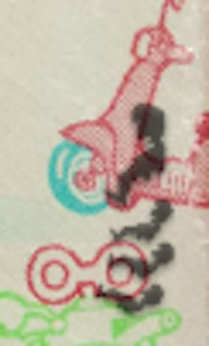 It's not exactly the movie Avatar looks-wise but it works.
The game gets progressively harder as characters start popping up at the same time and you're made to teleport really fast from one side of the hexagon to the other.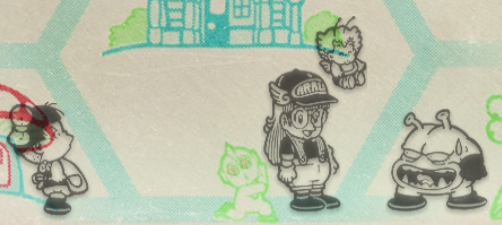 Alien dude with sharp, pointy teeth or harmless little girl?
I'll greet the alien first, I think.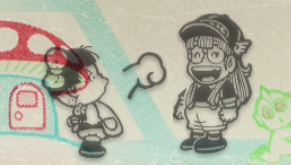 Darn.
Either that kid punched me in the face or that hexagonal path just farted.
You decide.
For some reason, the only one Arale seems to be genuinely scared of is Senbei:
I guess he's her creator…
Wait-
That's like your dad punching you!
Can't believe how dark and violent Tiger Electronics games are!
Told you they were scary.
Other characters perfectly willing to beat the crap out of you just for not saying hello to them include Taro, the school bad boy: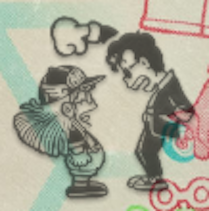 Suppaman, the joke Superman character, who flies with his belly on a skateboard for some reason: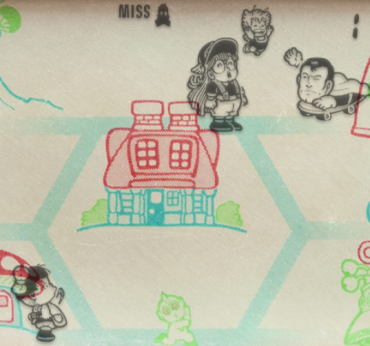 That stupid little kid, Kinoko, above.
King Nikochan, that alien with a butt on his head you can see on one of the images above and Chivil, a dragon-riding imp devil… thing: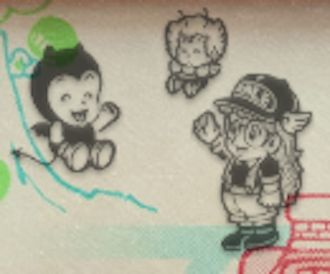 I'd forgotten how unashamedly insane that show actually was. It's got aliens, vampires, Superman, devils, Mr Spock, penguins… it's got it all!
And that's not an exaggeration.
Ever see a show in which a volcano with a mouth and eyes fans itself whenever it erupts?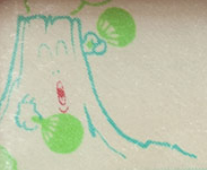 No?
Then you're not watching Dr Slump and you're missing out.
So anyway, that's basically the game in a nutshell: greet, rinse, repeat. Get punched a few too many times and you lose.
I'm glad there's not much more to this, a Tiger Electronics game should be simple to understand and yet still somewhat challenging. Dr Slump does this perfectly well. I wouldn't go as far as to recommend you hunting the game down and playing it physically since it costs like a hundred bucks on eBay but I would recommend you giving it a go on Pica-Pic.com, where you can find tons of Tiger games including this one, try them out, even set high scores.
It's good fun.
So long, Anime Month, have a nice flight!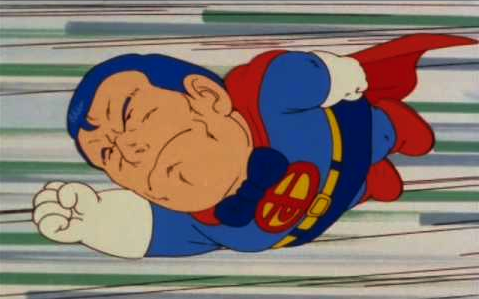 I shall miss you…