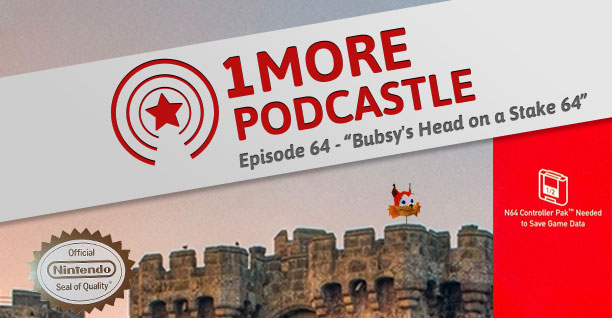 64 – Bubsy's Head on a Stake 64
Expansion pack required, rumble pack recommended.
Our Intro and Outro music is by Ben Landis off his album Adventures in Pixels – "Credits Music for an 8 Bit RPG" (Twitter @thebenlandis)
Our interlude track was And. "Start Havoc"

Hunter's show notes:
20:21 – Listener email discussion question… we didn't have any. So now we have to listen to Bailey give us some silly question. We need your emails! Doesn't matter if you sent one in before and thousands. We just want some questions…. please… I don't know how much more of this I can take.
31:32 – And. "Start Havoc"
33:48 – Retro Showdown!
36:13 – Bailey's Pick "Dr. Mario 64" (Nintendo 64)
37:30 – Hunter's Pick "Banjo-Kazooie" (Nintendo 64)
38:45 – Jason's Pick "Beetle Adventure Racing" (Nintendo 64)
39:14 – In honor of our 64th episode, we picked Nintendo 64 games as our theme. In case you haven't figured that out all ready.
1:01:55 – And we keep rolling onward. Email us your most heated debate questions. You can do it anonymously if you'd prefer. Also, please vote in the showdown and leave a comment. I promise, hilariousness will ensue.
Watch the live recording:
Play the audio episode: 
Update Required
To play the media you will need to either update your browser to a recent version or update your Flash plugin.