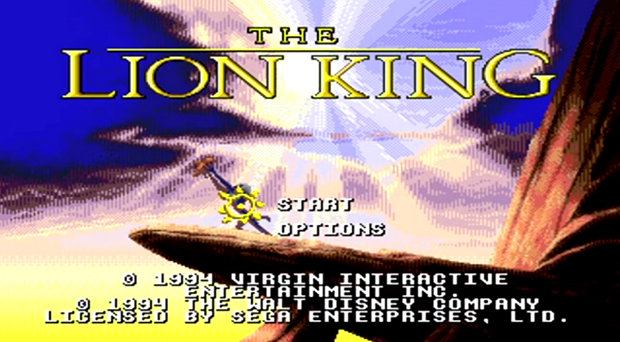 The Lion King (Genesis)
Cute first moments and baby laughs aside, parenting is pretty rough for the first few years and anyone that says otherwise is lying. The reward for all the hard work of child rearing began for me when my daughter, Mae, turned three. This has been her most inquisitive stage yet; she has a sense of wonder that surprises me constantly.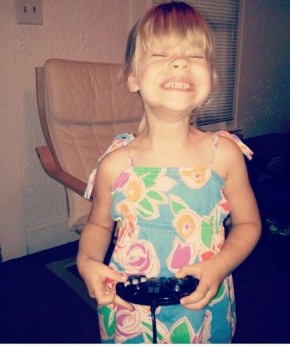 She is not in pain. That's just how she smiles.

OK, so now I have this little version of myself. A little lady that is interested in every single thing I say or do. How can I capitalize on what might be a fleeting period in her life where she clings to my every word and action? I figure that now is my time to strike! She needs to experience some of the things that made my childhood great. I need to get her hooked on the games I loved as a kid and continue to enjoy as an adult. We started with The Lion King for the Sega Genesis because she is four and that sort of thing just makes sense. Also, I remember how satisfying it was to jump on lizards and watch them explode. As enamored with the death animation as my daughter was I decided to use the invincibility code from the options menu, "RIGHT, A, A, B and START." I didn't want my daughter's first go at gaming to be full of disappointment. You know…like mine was when it came to The Lion King.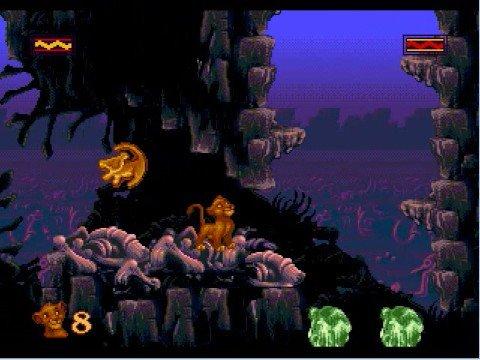 Those damn waterspouts are the true villains in this game. I think they have it out for Simba. They want to kill him and everything he stands for.
I helped her through the Elephant Graveyard because that shit is still terrifying 20 years later. Hyenas are no joke man. Don't even get me started on that part with the water spouts and wall jumping. It's like Disney and SEGA were conspiring when developing this game to make it beyond difficult in hopes of selling more controllers to the parents when their kids inevitably rage-quit and smashed the controllers in their tiny angry hands. This game is hard, too hard for what I assume the target demographic was in 1994. The platforms need surgeon-like precision in order to register, so prepare to miss the mark and fall to your doom often. One great thing about playing this with a kid that still enjoys a good juice box, is that fun can be had regardless of the progress made. We got stuck on the second level for a while, but Mae was completely content jumping on giraffes and riding the ostrich over and over…..and over.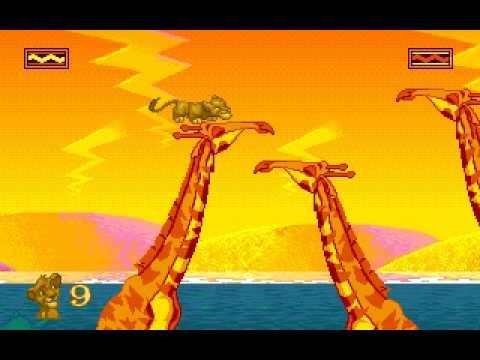 I like how the giraffes were only mildly annoyed when a freaking jungle cat jumped on their heads.
The music is spot on. We just recently watched The Lion King and the transformation into 16-bitness is fantastic. The "I Just Can't Wait to Be King" level even incorporates the music with the gameplay, jumping on top of the giraffes in time with the music is very satisfying. All in all, this game is fun and a nice throwback to my own childhood.
What I found more fun than the game itself, was the chance to share something special with my daughter.  All too often do you hear about the negative effects of gaming on kids. I want her to learn early that gaming can be a great way to connect with friends and have fun. She told me that she wants to play other games. Now I must hunt down other carts from my childhood and maybe a few that I never got to try. Sharing memories is great, but making new ones will be even better.