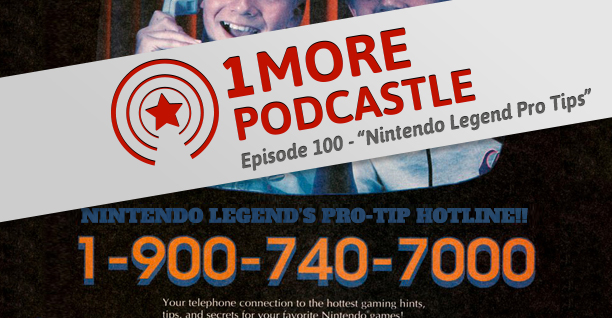 100 – Nintendo Legend Pro Tips
NINTENDO LEGEND PRO TIP:
If you get every star in Super Mario 64, visit the top of the castle for an old friend who will give you 100 episodes of the 1 More Podcastle!
For more pro tips, tweet @Nintendo_Legend #NintendoLegendProTips
Our Intro and Outro music is by Ben Landis off his album Adventures in Pixels – "Credits Music for an 8 Bit RPG" (Twitter @thebenlandis)
Our interlude track was "Funkiphibian Dub" by djpretzel
Show Notes
17:17 – Listener email "Can you remember your first arcade game and does it still hold up well?"
34:17 – "Funkiphibian Dub" by djpretzel
36:38 – Retro Showdown!
38:53 – Bailey's pick – "Battleship" (NES)
39:57 – Hunter's pick – "Ivan 'Ironman' Stewart's Super Off Road" (NES)
40:52 – Jason's pick – "Metroid Prime" (Gamecube)
41:46 – There are a ton of great games out there. Many more would-be greats if it weren't for that little… just that small little… stupid thing that makes the game unbearable. We discuss some of our personal entries in this week's Retro Showdown.
1:06:18 – 100 episodes. That's a big number in anything let alone for a podcast talking about retro video games. And we have you, dear listener, to thank. We would not be where we are today if it weren't for your discussion questions, chip tune submissions, comments and votes in the poll. From all of us, we say thank you. Here's to 100 more!
Play the audio episode: 
Update Required
To play the media you will need to either update your browser to a recent version or update your Flash plugin.