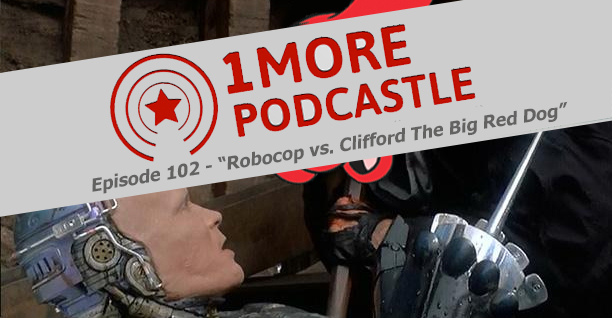 102 – Robocop vs. Clifford The Big Red Dog
A battle for the ages.
Our Intro and Outro music is by Ben Landis off his album Adventures in Pixels – "Credits Music for an 8 Bit RPG" (Twitter @thebenlandis)
Our interlude track was  "Norfair Deathmarch" by Mazedude
Show Notes
17:01 — Listener email discussion question "If sports games held up as well as other genres such as RPGs and platformers, would the Genesis be considered better than the super Nintendo?"
29:16 — "Norfair Death March" by Mazedude
32:20 — Retro Showdown!
34:50 — Bailey's pick "Robocop" (NES)
36:41 — Hunter's pick "Duck Hunt" (NES)
38:24 — Jason's pick "Clifford the Big Red Dog Phonics" (PC)
39:23 — Woof woof. Woof woof woof woof woof. Woof woof woof woof. Woof woof woof woof woof woof woof woof woof woof woof woof woof. Woof.
57:02 — We continue our reign in the retro gaming podcast realm as we inch every so closer to our 2 year anniversary. First 100 episodes now this? I know, I know. But it's always important to vote in the Retro Showodwn poll, send us your burning retro gaming questions and leave us some comments. The more you know.
Play the audio episode: 
Update Required
To play the media you will need to either update your browser to a recent version or update your Flash plugin.
Download this episode (right click and save)
SUBSCRIBE!
Subscribe by RSS
Subscribe through iTunes
Subscribe on Stitcher