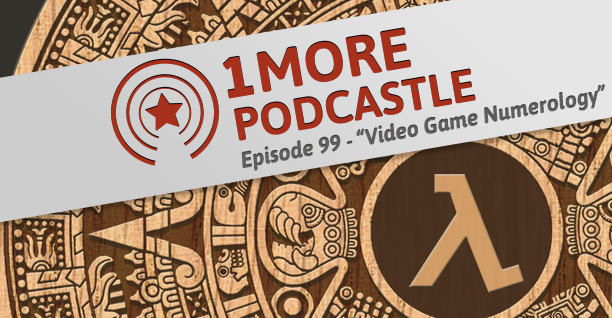 99 – Video Game Numerology
99 Episodes / (Month of episode release (8) + (1) More Podcastle = 9) = 11
Year of episode release (2014) – 11 = 2003
Year of Mega Man 3 (20XX) – 2003 = XX – 03
Number of Podcastle Hosts (3) – (XX – 03) = XX
X = roman numeral for 10, therefore XX = 20
The book of Genesis [Retro gaming connection], chapter 17 says Abraham was 99 years old [SAME # AS EPISODES]
20- Genesis Chapter (17) = 3.
HALF LIFE 3 CONFIRMED.
Our Intro and Outro music is by Ben Landis off his album Adventures in Pixels – "Credits Music for an 8 Bit RPG" (Twitter @thebenlandis)
Our interlude track was "Go Back" by Lazygecko
Show Notes
20:52 – Listener email discussion question "Are there any video game genres that you don't feel are represented in the last couple of generations of consoles that you'd like to see make a reappearance?"
32:47 – "Go Back" by Lazygecko
35:10 – Retro showdown!
37:14 – Bailey's pick "Taboo: the Sixth Sense" (NES)
38:21 – Hunter's pick "Gridiron!" (Amiga)
39:43 – Jason's pick "Rescue Rover" (PC)
40:43 – Many great developers we know today had some rocky starts into the development scene. Sure they may have gone on to do great works and AAA titles, but their beginning titles would turn some heads.
1:00:47 – We are just one episode away from 100. And it's all thanks to you, dear listeners/readers. We could not do this without you. Show us how much you care by voting in the showdown poll, leaving us a comment and send us a discussion question to tackle on a future episode.
Play the audio episode: 
Update Required
To play the media you will need to either update your browser to a recent version or update your Flash plugin.