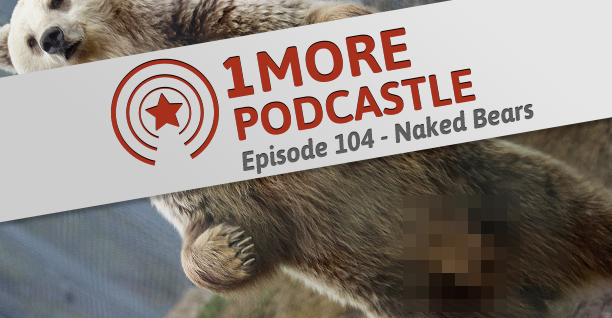 104 – Naked Bears
I, for one, welcome our new Google search audience based on this episode title.
Our Intro and Outro music is by Ben Landis off his album Adventures in Pixels – "Credits Music for an 8 Bit RPG" (Twitter @thebenlandis)
Our interlude track was "Flash Man" by a good friend of the show, Mega Beardo
Show Notes
16:06 – Listener email discussion question "Are there games that would've been ignored if they hadn't attached to big mascots or publishers?"
27:20 – "Flash Man" by Mega Beardo
29:20 – Retro Showdown!
31:35 – Bailey's pick "Croc: Legend of the Gobbos" (PS1)
33:01 – Hunter's pick "Pitfall" (2600)
34:17 – Jason's pick "Time Splitters 2" (Gamecube)
35:05 – Snakes! I hate snakes! And pretty much any and all reptiles of any fashion. But we are putting them center stage for this week's Retro Showdown theme. Blah… snakes. So gross.
56:09 – 2 years. Do you have it in you for two more years of 1 More PodCastle? We hope so because we have only just begun. You know the drill. Get in those burning questions, vote in the showdown poll, and leave your comments below. Thank you for an amazing two years and here's to two more!
Play the audio episode: 
Update Required
To play the media you will need to either update your browser to a recent version or update your Flash plugin.