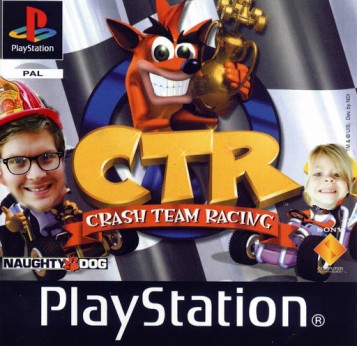 CTR: Crash Team Racing
Recently, I was bumbling through the myriad of menus on the PlayStation Store and came across the "Classics" section. Some pretty great titles are hidden away in this far away section. Perhaps due to having read the latest piece by everyone's favorite wooden castle dweller, CTR: Crash Team Racing stuck out like a sore thumb. I promptly snatched CTR for about $5, thinking Mae would enjoy the Adventure mode. One great thing I noticed about CTR on the PlayStation Network is that it also includes a digital copy of the original game manual. More on that later.
Let's see what Mae thinks of probably the best non-Mario Kart Racer to have ever graced a console. Crash Team Racing has various game modes but the one I thought Mae would truly enjoy was the Adventure mode. The Adventure mode allows you to drive around from race to race in fun, somewhat interactive, environments. By using the Dualshock controller you can accelerate using the right analog stick in addition to pressing X. This seemed to be a more Mae-friendly control scheme.
Controller in hand, Mae drove from race to race and once becoming thoroughly frustrated with the actual racing, she allowed me to try my luck at snagging 1st place. Obtaining 1st place proved pretty tough at first considering the only racers Mae was interested in were seriously lacking in one area or another. I typically go for the most well rounded racer while she, of course, gravitated toward the adorable tiger, Pura and laptop toting heroine, Coco. After each successful race, Mae would cheer and really got into the podium ceremony. Pura the tiger would yip incessantly until you hit X to close the trophy screen. Mae actually insisted that I remain on the trophy screen for what seemed like a solid 5 minutes…which is a lot longer than you might think.
Once I showed Mae that you can jump by pressing L1, she was completely occupied for quite a while, just driving around the Adventure mode map jumping into the turns. Once we collected enough trophies and keys we were able to face Ripper Roo in order to collect the Boss Key and advance to the next area. Each new area provides Mae with more to explore and increasingly challenging races for me to try.
Another game mode that was really fun was the Battle Mode. Just picture family friendly Twisted Metal. You drive around a arena style map collecting power ups and blowing each other up. I even let Mae sneak in a few hits with the bombs. With the holidays upon us, we have loads of family around, I am thinking a tiny cousin CTR Battle is in order.
Mae was really interested in the back story for each character and I could use a refresher on my Crash Bandicoot lore, so we pulled up the in-game manual which is essentially a PDF file of the booklet that would have come with the original game. As expected, the manual contains a great bio section including pictures and descriptions of each character. I remember pawing at my game manuals as a kid to learn as much as I could about my games, so it is nice that Sony decided to include that in this digital release for Mae.
While browsing the manual, I was pleasantly surprised to find something that let me introduce a new gaming concept to Mae that used to be commonplace, cheat codes! Hidden on a random page of the manual, a picture of Spyro the dragon appears with the message, "Enter this code to unlock a playable Spyro demo." Although only half expecting it to work, I proceeded to give Mae a great lesson in gaming, how to use cheat codes! If I smash buttons in the correct order, something special happens. It took her a few attempts but soon the screen went dark and a demo for Spyro 2: Ripto's Rage pops up. Mae ran around shooting fire and charging random objects, collecting gems along the way. The demo was pretty short, but the simple act of unlocking it was a great experience to share. We will be heading back to that and Adventure mode to try our hand at unlocking everything soon. If you follow me on Twitter @ChrisASwartz, you may get a glimpse of some of our future CTR Battles. Crash Team Racing is probably my favorite entry in the Crash Bandicoot series and a great way to forever ruin your child's opinion of other Kart Racers.