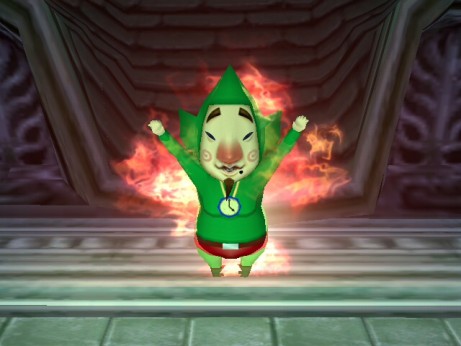 Interview with Tingle
Every once in a while, an individual comes along that changes the very fabric of time and space itself. Sometimes that individual happens to be an intricate part of one of the greatest video game franchises of all time. One such individual is the fairy, the myth, the legend, Tingle. With the recent announcement of The Legend of Zelda: Majora's Mask 3D for the Nintendo 3DS, I tracked Tingle down and forked over countless rupees for a brief interview with one of the greats. Now, without further ado, I present my interview with Tingle.
---
Tom: First of all, Tingle, thank you so very much for taking some time to talk with me today. For any of our readers who might not be too familiar with you, why don't you tell us a little bit about yourself?
Tingle: MY NAME IS TINGLE AND I'M THE LEGENDARY CARTOGRAPHER IN THE VIDEO GAME SERIES THE LEGEND OF ZELDA. YOU COULD SAY I'M THE MAIN CHARACTER. I'M A FAIRY, SALESMAN, AND ALL-AROUND FANTASTIC GUY.
Tom: The first game in the Legend of Zelda series to feature you, Majora's Mask has been confirmed to be receiving a 3D remake for the 3DS. What are your thoughts on this?
Tingle: I'M VERY EXCITED. IWATA'S BEEN HEMMING AND HAWING ON IT FOR YEARS. YOU COULD SAY I HAD A HAND IN HELPING HIM MAKE THE DECISION. MAJORA'S MASK MEANS QUITE A BIT TO ME. AS YOU SAID, IT WAS THE FIRST GAME I WAS IN. I WAS THE YOUNG AGE OF 35 YEARS OLD. AT THE TIME, I KNEW I WANTED TO BE A FAIRY, BUT I WASNT SURE HOW TO ACHIEVE MY DREAMS. NOT ONLY THAT BUT MY FATHER WASN'T VERY SUPPORTIVE. STILL I DID MY BEST, AND BECAME THE SOLE REASON WHY MAJORA'S MASK BECAME THE MOST SOLD VIDEO GAME WORLDWIDE.
Tom: Wow. A true story of perseverance and endurance. As a big fan of you personally, I've gotta ask: why did it take so long for Nintendo to put you in a game?
Tingle: MOSTLY POLITICS. MIYAMOTO WAS REALLY AFRAID I'D OVERSHADOW HIS CHARACTERS. AND IN A WAY HE WAS RIGHT. YOU'LL NOTICE THAT HE'S KEPT MY SERIES FROM EXPANDING INTO THE AMERICAN MARKET.
Tom: That is a little shocking. Follow up question: why has it been so long since you have been in a Zelda game?
Tingle: AGAIN, MIYAMOTO. HE'S SUCH AN ASSET TO THE COMPANY, IWATA HAS PERSONALLY ASKED ME TO SIT OUT FOR A FEW ENTRIES SO AUDIENCES MIGHT START REMEMBERING RED LUIGI'S NAME.
Tom: That is kind of you to do that favor for Mr. Iwata. You make an appearance in the new 3DS and Wii-U versions of Super Smash Bros. as an assist trophy. Was there anything special you did to get in shape for this role?
Tingle: I BLOW UP A LOT OF RED RUBBER BALLOONS IN MY PANTS. IN SUPER SMASH BROS, I HAVE TO DO THAT EVERY FEW MATCHES, OR, OCCASIONALLY, TWICE IN ONE MATCH. THE ROLE REALLY REQUIRES TIME MANAGEMENT, SO I'VE PRACTICED STUFFING MY PANTS WITH AS MANY RUBBER BALLOONS AS POSSIBLE.
Tom: Speaking of your pants, where do you get your skintight suits from?
Tingle: I MAKE THEM MYSELF, OUT OF STOLEN SHIRTS FROM THE KOKIRI. THE KOKIRI AREN'T REALLY FAIRIES, BY THE WAY. NOT MANY PEOPLE KNOW THAT. THEY'RE JUST CHILDREN OF THE FOREST. BUT I HAVE A LOT OF RESPECT FOR THEM. AFTER ALL, THEY REMAIN CONSTANTLY IN THE FRIENDSHIP OF FAIRIES. I TRY TO REMIND MY ASSOCIATES DAILY HOW LUCKY THEY ARE THAT I REMAIN IN THEIR PRESENCE.
Tom: Interesting. So their shirts are sort of like a Tingle Tax. You wear a clock around your neck, not unlike Flava Flav. Has he ever taken exception to your wearing of them?
Tingle: THE CLOCK IS ACTUALLY A FAIRY APPRENTICE SYMBOL. HE'S BEEN STUDYING TO BE A FAIRY SINCE THE '80'S.
Tom: Hopefully he makes it someday. Obviously you are a fan of balloons. Do you ever make balloon animals?
Tingle: I MADE A BALLOON OUT OF BALLOONS ONCE.
Tom: Well that is just impressive. It's no secret that you have built a fairly formidable map selling empire. What do you think of upstarts like Rand McNally trying to upstage you?
Tingle: WHO DO YOU THINK OWNS RAND MCNALLY?
Tom: Fair enough. Switching gears, is there any chance we could ever see a Legend of Tingle game?
Tingle: EUROPE AND JAPAN ALREADY HAVE. HAVE YOU HEARD OF THE TINGLE'S ROSY RUPEELAND SERIES? BLAME MIYAMOTO IF YOU HAVEN'T.
Tom: I have heard of those but unfortunately have never been able to play them. Perhaps someday. Tingle, as someone who has been in the video game industry for many years as you have, what do you think of the state of video games today?
Tingle: THEY HAVE A SAD LACK OF FAIRIES. AND RUPEES. AND TINGLE. THEY SEEM TO HAVE PLENTY OF MAPS THOUGH.
Tom: That they do. Are there any video games that you like to play?
Tingle: XENOBLADE CHRONICLES. LOTS OF MAPS.
Tom: A fortune to be made for you there, no doubt. Speaking of which, is there anything you would not do for rupees?
Tingle: I WOULDN'T PAY RUPEES FOR RUPEES….. WELL, DINDAMN IT, MAYBE I WOULD.
Tom: If any of our readers need a map, how can they get a hold of you, Tingle?
Tingle: YOU CAN FOLLOW ME ON TWITTER, @TINGLE_EMAPS. MAPS ARE 40 RUPEES. I ACCEPT VISA, MASTERSWORDCARD, AND .JPGS.
Tom: Do you have any parting words for the 1 More Castle readers?
Tingle: TINGLE, TINGLE, KOOLOOLIMPAH! THESE ARE THE SECRET WORDS THAT TINGLE INVENTED HIMSELF. DON'T STEAL THEM!
---
A huge thank you to Tingle for taking the time to talk to me and share some great things with the 1 More Castle audience.