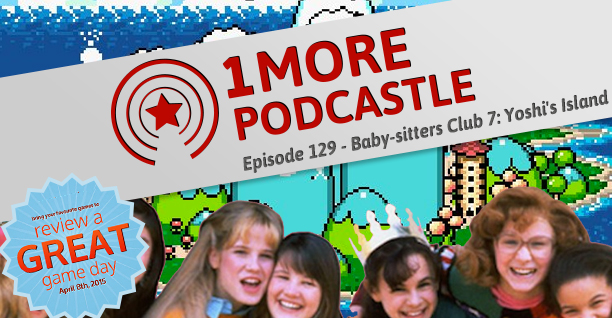 129 – Baby-sitters Club 7: Yoshi's Island
The gloves are off! Tom Hall joins the podcastle crew for a four person, no-holds barred, Review A Great Game Day themed Retro Showdown!
Our Intro and Outro music is by Ben Landis off his album Adventures in Pixels – "Credits Music for an 8 Bit RPG" (Twitter @thebenlandis)
Our interlude track was "Back in the Groove" from the successfully funded Toejam & Earl Kickstarter
Show Notes
14:48 – Listener email discussion question "How has 1morecastle changed your lives?"
24:33 – "Back in the Groove" Toejam & Earl
27:13 – Retro Showdown!
31:13 – Bailey's pick "Super Mario World 2: Yoshi's Island" (SNES)
32:22 – Hunter's pick "Maniac Mansion" (NES)
33:28 – Jason's pick "We Love Katamari" (PS2)
34:21 – Tom's pick "Star Fox 64" (N64)
35:14 – With Review A Great Game Day right around the corner (it really is so get to it!) we thought we would invite the N64 Connoisseur to join us in celebrating another soon-to-be success year of RAGGD! So we picked four great games. The choice will be difficult. Good luck!
58:25 – Time flies when you are having fun trying to find just the tiniest things to make a great game look mediocre. Well, we never said this was going to be easy. So go forth and vote for your favorite game in the showdown poll.
Play the audio episode: 
Update Required
To play the media you will need to either update your browser to a recent version or update your Flash plugin.