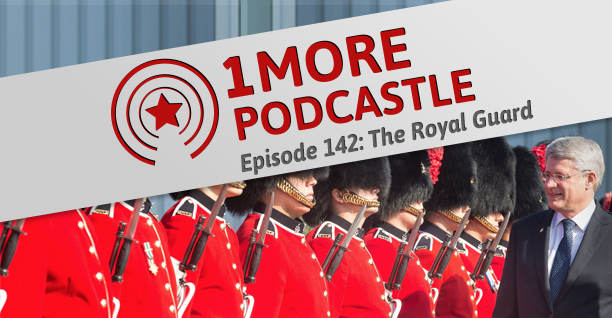 142 – The Royal Guard
You're welcome to take a photo at the Changing of the Guard (That Is Holding The Door Open For You, Thanks For Visiting Canada, Sorry About The Weather).

Our Intro and Outro music is by Ben Landis off his album Adventures in Pixels – "Credits Music for an 8 Bit RPG" (Twitter @thebenlandis)
Our interlude track was "Smash Superstarts" by zircon
Show Notes
32:06 – Listener email discussion question "Just wanted to know if there were any opinions in a video game that you chose to take even though you knew it meant immense destruction! (I'm thinking: trying a boss when you know you aren't level up properly, or maybe letting the moon crash on you in Majora's Mask!) your favorite video game ultimate destruction/horror moments."
45:26 – "Smash Superstarts" by zircon
47:49 – Retro Showdown!
50:19 – Bailey's pick "Mortal Kombat" (Sega Genesis)
52:04 – Hunter's pick "WCW/nWo: the Revenge" (N64)
53:39 – Jason's pick "Final Fantasy X" (PS2)
54:37 – Boom! Lightning! Followed by… ROLLING THUNDER (amazing game by the way). On this episode our theme is lightning. Somewhere in the game. Yup… lightning…
1:09:43 – Well there you have it. Have your favorite pick for the showdown? Let's see those votes hit that voting box. Disagree with something we said? Direct all hate mail to Bailey by using our comment section below.
Play the audio episode: 
Update Required
To play the media you will need to either update your browser to a recent version or update your Flash plugin.