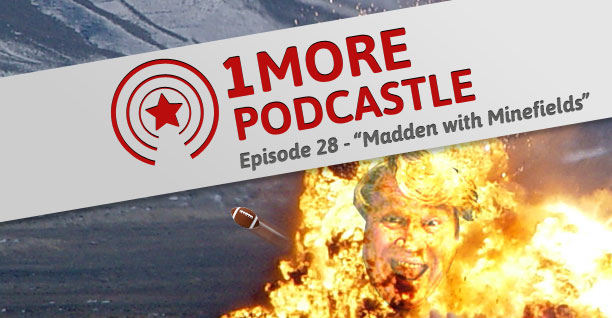 028 – Madden with Minefields
This week, the Podcastle is all about the hutts, the touchdowns, the spirit of teamwork, and the buried explosive ordnance. We also cover a great listener question that invites us to list our hangups with the RPG genre.

Our Intro and Outro music is by Ben Landis off his album Adventures in Pixels – "Credits Music for an 8 Bit RPG" (Twitter @thebenlandis)
The musical Interlude was Doppelgengar "Dungeon Crawl"

13:22 – Retro discussion email (that's right! We got one!) "What is in your opinion, the most annoying aspect of an RPG modern or retro?"
26:10 – Doppelgengar "Dungeon Crawl"
27:11 – The retro showdown!
29:31 – Bailey's Pick "Demon Sword" (NES)
30:32 – Hunter's Pick "Michael Jackson's Moonwalker" (Sega Genesis)
31:29 – Jason's Pick "Silver Surfer" (NES)
31:57 – And the theme for this week's retro showdown is games released in the year 1990. Let's get it on!
54:31 – Cast your vote, leave us a comment below, send us some email with questions/possible themes. We'll read them. We might not use them but we will read them! I promise.