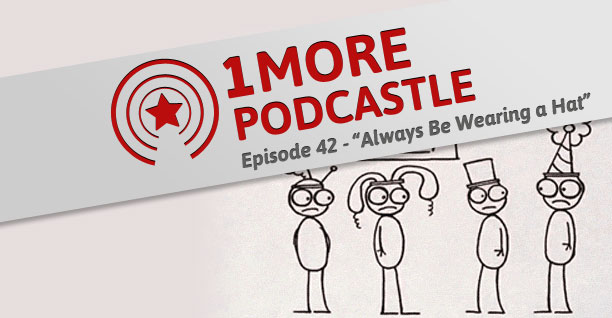 042 – Always Be Wearing a Hat
ALWAYS.
Our Intro and Outro music is by Ben Landis off his album Adventures in Pixels – "Credits Music for an 8 Bit RPG" (Twitter @thebenlandis)
The musical Interlude was Mike Larry Draw "The Waterbird Lies"

15:24 – We actually got a voice mail for our listener discussion question…. ""If the Earth was going to explode Krypton-style, and along with your son you could save on artifact, a retro game, which would you pick?"
21:06 – Mike Larry Draw "The Waterbird Lies"
23:20 – The retro showdown!
26:42 – Bailey's Pick "The Adventures of Yogi Bear" (Super NES)
27:47 – Hunter's Pick "Dick Tracy" (Sega Genesis)
28:41 – Jason's Pick "R.B.I. Baseball" (NES)
29:25 – It's hat week on the 1 More Podcastle! Did you bring your hat? Well… it's the theme for the week so… you should probably bring it. It's only fair.
57:12 – Send us email! Discussion questions! Possible showdown themes! And guess what?! We also get voice mails! Boom!
Watch the unedited recording:
Play the audio episode: 
Update Required
To play the media you will need to either update your browser to a recent version or update your Flash plugin.