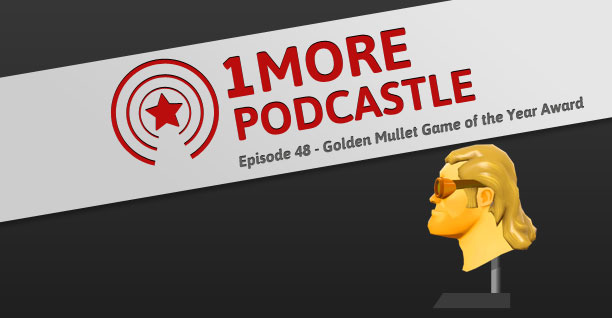 048 – Golden Mullet Game of the Year Award
It's our Review A Bad Game Day episode! Rejoice! Or Despair! Both may be appropriate!
Our Intro and Outro music is by Ben Landis off his album Adventures in Pixels – "Credits Music for an 8 Bit RPG" (Twitter @thebenlandis)
Our interlude track was Crystal Fortress Level 16 – "Battle with Bowser"

9:46 – Listener discussion question "Imagine I was an insanely rich person that could get any gaming related item that ever existed. What retro gaming item would you want me to get for each of you to make up for the listeners not supplying you with discussion questions?"
23:00 – Crystal Fortress Level 16 – "Battle with Bowser"
25:31 – Retro showdown!!
27:26 – Mark's Pick "Dark Castle" (Sega Genesis)
28:26 – Bailey's Pick "NRA Varmint Hunter" (PC)
29:49 – Hunter's Pick "Mega Man II" (Gameboy)
30:33 – In celebration of Review a Bad Game Day, we defend our picks as the worst games in the show down.
54:25 – Just because we had a listener discussion question this week, don't think you're off the hook! And, if you could, vote in the poll below as well. Also if you join us in the live stream we'll give you a shout out! Happy Review a Bad Game Day!
Watch the unedited recording:
Play the audio episode: 
Update Required
To play the media you will need to either update your browser to a recent version or update your Flash plugin.