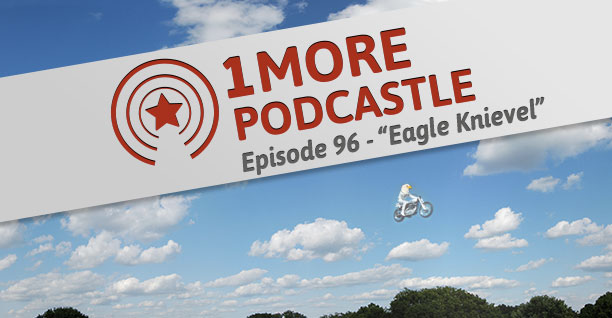 96 – Eagle Knievel
…and one day, he went off a jump that was too ambitious, too extreme. He launched off the ramp, and ascended into the sky. No one saw Eagle Knievel ever again, but we know he's watching over us.
Our Intro and Outro music is by Ben Landis off his album Adventures in Pixels – "Credits Music for an 8 Bit RPG" (Twitter @thebenlandis)
Our interlude track was Kamer "Whistle On Your Way"
Show Notes
13:02 – Listener email discussion question "What is the one game system, accessory, game, or related item that you desperately wanted as a child, but somehow have still never got around to owning, playing, or obtaining after all these years, and why?"
23:34 – Kamer "Whistle On Your Way"
26:08 – Retro Showdown!
29:23 – Bailey's pick "NES Play Action Football" (NES)
31:48 – Hunter's pick "League Bowling" (NEO GEO)
32:57 – Jason's pick "Ski or Die" (NES)
33:51 – As retro gaming goes, sports games usually get the short end of the 8-bit stick. But there are some very cool, even interesting sports games that, sadly, didn't see any kind of iteration or sequel. Which one is the best? It's up to you to decide.
56:55 – We love sports and we don't care who knows! But we'd love to hear from you. Take advantage of our comment section below, or send us an email to discuss on air and make your vote count! IS IT THE SHOES?!
Play the audio episode: 
Update Required
To play the media you will need to either update your browser to a recent version or update your Flash plugin.