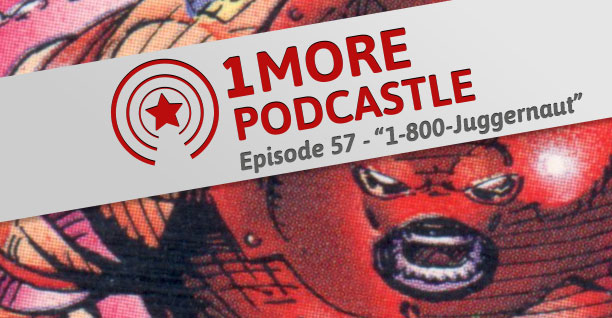 057 – 1-800-Juggernaut
Place a toll free call now, but the Juggernaut will come to collect.
Our Intro and Outro music is by Ben Landis off his album Adventures in Pixels – "Credits Music for an 8 Bit RPG" (Twitter @thebenlandis)
Our interlude track was Shaun Carley "Cloaca of Croakers (Kero Sewers)"

18:56 – Listener discussion email question "What gaming jump would be the biggest, most awe-inspiring for that gamer when he/she gets out of prison? Would it be the gamer who went to prison in 1979 and gets out in 1990 (going from Atari to late NES and Genesis), 1986 to 1997 (going from NES to PS1), 1991 to 2002 (SNES to PS2 and Gamecube), or 2002 to 2013 (PS2 to modern PC gaming and the PS4)."
29:20 – Shaun Carley "Cloaca of Croakers (Kero Sewers)"
31:39 – Retro Showdown!
35:25 – Bailey's Pick "Rygar" (NES)
36:32 – Hunter's pick "Contra III: The Alien Wars" (Super NES)
37:47 – Jason's pick "Metal Gear: Solid" (PS1)
38:29 – Our theme for this week (finally) is best power up in a video game.
57:10 – Oh… no… the Mario RPG tracks are back again! We need chiptune/nerdcore artists to submit your tracks! Make it so. I don't know how much more I can take of this! And, on a side note, vote in the poll and leave a comment below.
Watch the live recording:
Play the audio episode: 
Update Required
To play the media you will need to either update your browser to a recent version or update your Flash plugin.