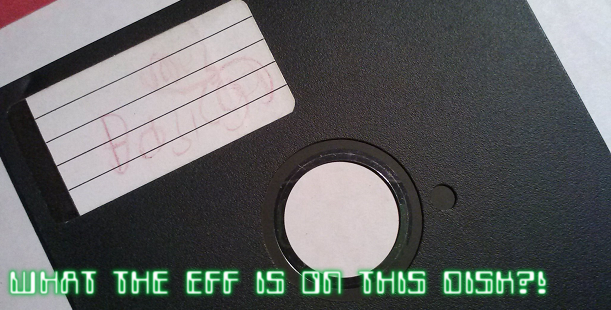 'Basicga Mez' (PC)
Circa 1988-1989, my nine year old self was so cool. I mean look, I was using a Z in place of an S. I was also labeling disks with a red crayon and drawing lines with squiggly arrows to connect text since I ran out of room. Seriously, go back and look at that title picture.. If you can make it out it reads
Basicga >>> Mez
or
Basic Gamez
Can I get a pass on this since I was nine? Anyway.. Time for another round of data archaeology (now with spiffy logo!) I can't really explain the existence of this disk. Since I labeled it I'm going to assume I copied it from another disk at some point. I was still dabbling in BASIC games pretty heavily in 1989 even though the family desktop was a 386 33MHz Intel PC with a big TURBO button. It was a little while before I discovered that Simcity ran really well. With the FC5025 USB > 5.25″ Floppy Drive controller collecting dust in my i5 equipped desktop, I gave this old floppy a whirl. This disk gave me some trouble. I guess they don't like being stored in a basement for 20 years. Oops. I finally got 'half' an image, but with some internet help I figured out what all these programs were. Thank God there's actually some games here. Here's a few highlights of what the eff is on this disk!
LUNAR.BAS – This is actually a really decent and simple 'land the dot spaceship' game. Simple graphics, quick game play. Surprised there isn't a tablet game based on this.
XWING.BAS – Of COURSE I had to try this. I remember this when I was a kid. It's pretty good for an early 80s PC game. Destroy Tie Fighters with the F1 key, and blow up the Death Star via F2.
FIREFIRE.BAS – A game I've seen before on Atari/Intellivision named AstroSmash. Shoot the falling Yen as they drop down from the sky. You can set your own difficulty level.
SIREN.BAS – A demo of various siren sounds played through the PC speaker.
CODEBRAK.BAS – A 'crack the code' game where you must guess the number using logic and positioning.
CANNON.BAS – Cannoneer. A text game where you must input the proper elevation of the cannon in order to destroy your opponents.
CIAGAME.BAS – A text based adventure game where you must rescue a ruby that is part of a government weapon. Gasp!
BUCKY.BAS – University of Wisconsin fans, here's your mascot.
STRTRK.BAS – While I have a suspsicion this is a Star Trek game, I couldn't get it to run as the disk didn't create a clean image. Bummer.
I actually did pretty good with this disk. By 'pretty', I mean I found something interesting. The video above shows a few highlights of some games I mentioned. Like usual, some of these files just wouldn't read since I had trouble with the disk, but some internet hunting and matching file sizes did bring me to the programs. Once again, I managed to rescue a disk from my childhood for reasons unknown. Actually, Lunar is really addictive. I'd almost be tempted to make a DOSBox .bat file to automatically run this from inside Windows 7, jumping right into GWBasic. Am I crazy? Hmm. Be back in a few weeks with another disk to dust off. For now, I'm thirsty.