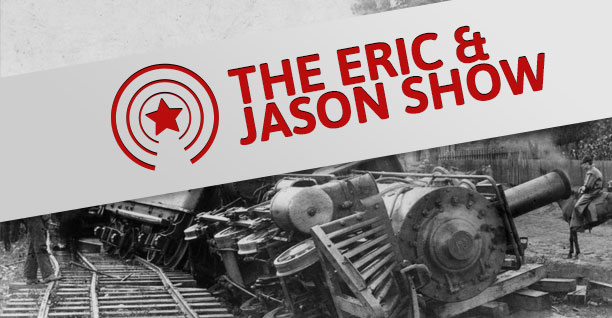 062 – The Eric & Jason Show!
Welcome to the new podcast we're launching today: The Eric & Jason Show!
Our Intro and Outro music is by Ben Landis off his album Adventures in Pixels – "Credits Music for an 8 Bit RPG" (Twitter @thebenlandis)
Our interlude track was Jonwayne "Darwing"

Hunter's show notes:
15:40 – We receive orders from our all knowing, omniscient being: the Time Puncher!
21:29 – Jonwayne "Darwing"
23:52 – The Retro Showdown!
25:40 – Eric's Pick "Turok: Dinosaur Hunter" (N64)
27:11 – Jason's Pick "Cow Hunter" (PC)
28:24 – With Hunter being absent and no guest host in sight, we chose our theme that was created by our live listeners "games with hunters in them…" because apparently they missed me?
46:46 – Well that was… a podcast… But, be sure to vote, comment and subscribe. Remember, only the cool kids see the live streams and we still have some Members-Only Jackets left to give out. Every Thursday Night at 8:30 p.m. Eastern (7:30 Central). Be there!
Watch the live recording:
Play the audio episode: 
Update Required
To play the media you will need to either update your browser to a recent version or update your Flash plugin.