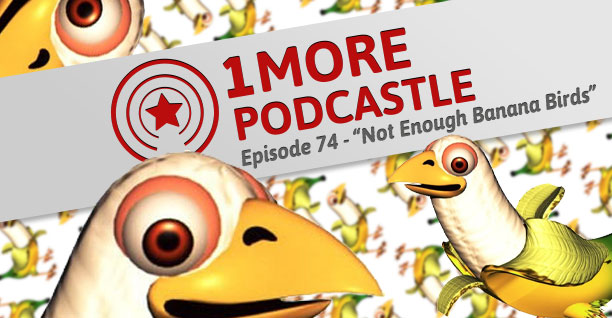 74 – Not Enough Banana Birds
Today I took a journey: I had no idea what Banana Birds were, I looked them up, was horrified, went into counselling, got better, and then made this podcast post header.
Our Intro and Outro music is by Ben Landis off his album Adventures in Pixels – "Credits Music for an 8 Bit RPG" (Twitter @thebenlandis)
Our interlude track was Dr. Manhattan "Rusty Fingers"

18:48 – Listener email discussion question "Just wanted to comment on the lack of "Dream Sequence" games occurring from '94-'04, and realized that there were no Nightmare On Elm Street movies from '94-'03 (Wes Craven's New Nightmare and then Freddy vs. Jason). Coincidence?"
31:08 – Dr. Manhattan "Rusty Fingers"
33:17 – Retro Showdown!
36:00 – Bailey's Pick "Mario Kart" (SNES)
37:12 – Hunter's Pick "Donkey Kong Country 3: Dixie Kong's Double Trouble" (SNES)
38:45 – Jason's Pick "Mortal Kombat Trilogy" (N64)
39:36 – It's all Nintendo Power volume 94 up in here this week for our theme showdown. We choose games from the top 10 lists in issue #94. Man, I miss Nintendo Power…
1:01:00 – Hey guys and gals, we are looking for nerdcore or chiptune artists for a secret project we are working on. If you are or know anyone who is, be sure to have them get in contact with us here at 1 More Castle. I would tell you what it was, but Bailey has sworn me to secrecy… and he threaten to steal my Donatello plush doll if I told.
Play the audio episode: 
Update Required
To play the media you will need to either update your browser to a recent version or update your Flash plugin.