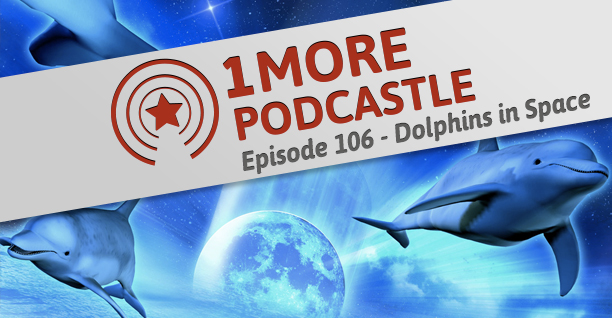 106 – Dolphins in Space
Today I learned that there is a large section of the internet devoted to photos of dolphins in space.
Our Intro and Outro music is by Ben Landis off his album Adventures in Pixels – "Credits Music for an 8 Bit RPG" (Twitter @thebenlandis)
Our interlude track was "Cranium Castle (Dr. Wily Stage 1 remix)" by lazygecko
Show Notes
12:10 – Listener email discussion question "What game did you parents completely dominate you in as kids?"
24:48 – "Cranium Castle (Dr. Wily Stage 1 remix)" by lazygecko
27:10 – Retro Showdown!
29:45 – Bailey's pick "Casino Kid" (NES)
30:54 – Hunter's pick "Ecco the Dolphin: Defender of the Future" (Dreamcast)
32:15 – Jason's pick "Jaws: Unleashed" (PS2)
33:16 – Shark Week has already passed but that doesn't stop our showdown theme for all the gut wrenching, heart stopping terror that comes when talking about sharks. Unless you are Bailey, then you just take a loose interpretation of what's going on and try to Sock Piano it into the theme. Oh, Bailey.
52:06 – We are starting a 1 More Castle Community Gaming Night where you, dear listener, get to play games with the 1MC friends! The first night is Wednesday, October 22nd, 2014 at 8:00 p.m. eastern time. Come join us as we try to take down the awesome power that is Jason Lamb in Team Fortress 2!
Play the audio episode: 
Update Required
To play the media you will need to either update your browser to a recent version or update your Flash plugin.