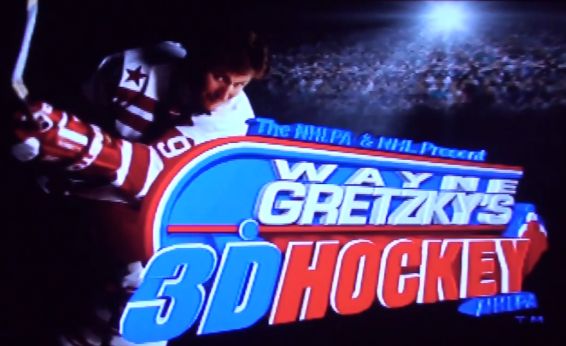 N64 Review #15 – Wayne Gretzky's 3D Hockey
It is one of my favorite times of year. No, not pumpkin spice season. No, not extraordinarily premature Christmas decoration season. It's hockey season! Hockey is my favorite sport. In fact, as I write this, I am also watching a Tampa Bay Lightning game. Go Bolts. All of this icy goodness got me to reminiscing about one of my old Nintendo 64 favorites, the great arcade hockey game and the first sports title on the N64, Wayne Gretzky's 3D Hockey. Old favorite as it may be, I haven't played it in many years and N64 sports games haven't aged terribly well on the whole. Seems like it's worth a look, isn't it?
As soon as I booted up my old friend, I was reminded by a very pleasant announcer voice that "The NHL and the NHLPA present Wayne Gretzky's 3D Hockey." Upon further inspection of the title screen, the NHLPA name appears twice in the logo. I get it, guys. That not withstanding, I was immediately reminded of the announcer. I remember him as super entertaining. I was not disappointed. The announcer reminds me of NBA Jam and while he is not nearly as entertaining, he still has some great lines. My favorite would have be when the puck is stolen and he exclaims, "Robin Hood and his merry men are at it again!" He also has a great compliment of other situational one liners and in some cases just one word exclamations like "WHAM!" and the like.
As I played through a few games and listened to him, I realized the genius in the simplicity. I realize that a realistic experience was not the goal here, but EA still struggles to this day with realistic commentary in the NHL series. And also the Madden series come to think of it. By having this fellow just spout off one liners and not worry about player names, arena names, or remembering what happened earlier in the game or season, they made the commentary far more enjoyable. Take notes, everyone else who wants to make sports games.
Commentary aside, the game still plays really well. It is arcade style hockey, with 3 on 3 fast paced action. It does also feature a 5 on 5 simulation mode for you hockey purists out there. For me though, having nothing but simulation hockey games available to me these days, it was all arcade. The arcade mode also has a smaller rink so scoring is frequent. As with most good arcade style sports games, there is a turbo button. The turbo button enables some amazing things like a flaming shot that sets the net on fire if you score with it or a shot that can put the goalie through the net and cause both goalie and net to crash into the boards. It also can be used to traverse the ice quickly or even enhance your checks.
Graphically, the game isn't gorgeous, but it hasn't aged as poorly as some other N64 titles. It is pretty cool to see some of the older NHL logos and some of the teams that no longer exist (R.I.P. Hartford Whalers). The arena also looks good. It even featured sponsored content in the way of logos on the boards. Both Coca-Cola and Campbell's bought themselves some real estate and while usually I'd pitch a fit about such things, it added a nice touch of realism to the rest of the over the top shenanigans.
Like any good hockey game, there is fighting. Controls are very simple which actually makes the fighting fun. At the end of your fight, the loser wobbles as if he is waiting for a Fatality. I'm not sure if you actually could do one (it would have been cool), but I was just as big of a fan of a well placed uppercut.
I mentioned earlier that this was the first sports game on the Nintendo 64. That's not all Wayne Gretzky's 3D Hockey was first at. It was also the first Nintendo 64 game to support 4 players. It was done pretty well. I have a lot of fun memories of playing this with my friends and wildly missing passes to each other. It also had Controller Pak support so your could save your profile and take it on over to your friend's houses. You see, kids, in my day, we actually all had to be in the same room to play video games together. AND WE LIKED IT!
Overall, I was really surprised at how well this game aged. It was every bit as fun as I remembered it and I think even people playing it today for the first time would have a great time with it. The really nice part about this being a sports game is that sports games hold their value about as a well as a burning building. That means you can find this game for about $2. I highly recommend doing so, especially if you have some friends that enjoy a good retro gaming night.