The 1 More Comrade Manifesto
Hello retro-gaming enthusiasts! Welcome to this fabulous website! Surely you have noticed that it looks "different" from before. Don't be alarmed by this sudden change, because, at the heart of it all, it remained the same. The spirit of its creators shine through, perhaps brighter than before. We are dedicated to retrogaming. We are dedicated to you, the people.
You see, at its core, retrogaming is about sharing. Sharing memories, sharing fun, sharing games, sharing experience, sharing tips, sharing opinions. We want to bring "sharing" to the forefront of this website. This is what this community is about and we're proud to be an equal part of it. If we stand together, sharing our strengths, fortifying our community, we will succeed. We will be happy. We will fight our way to peace. We will work harder, not for success, not for personal gain, but for honor. We will show people that there is a country for old games! We will build a Brave New World! With that in mind, I present you the new logo:

A castle, a star, a hammer and a sickle, pretty much sums up retrogaming, right, comrades? Speaking of comrades, you might be wondering who is behind this change of imagery. Allow me to present your new allies:

Comrade Alexei Weiss: Host of the new podcast and co-founder of Retro Power, Alexei, with his publication knowledge, will also take care of all things related to propaganda… Marketing! I meant marketing! He will also managed the deported along with other exports and imports. Should any people break the rules of the site, they will be deported. I'm kidding! D-ported is a video series that he will continue to handle. People won't be deported… yet.

Comrade Kristofz Swartz: Co-host of the new podcast and writer of the Raising a Gamer, think of Comrade Swartz as a the Big Brother of the website. He is also in talks to start another series: Raising an Army of Gamers. Of course, due to his unique Floridian heritage, he will handle military operations.

Comrade Jonathan-ski Hallée (me): Writer of the My Two Gils where we also accept contributions to the site. I will also take care of the financial aspect of the website. You should receives the bills soon. I will also manage communications and foreign policies.
As for existing contributors, do not worry about your place among us. You share this passion with us in a priceless way. You are all equals. You are one of us; you are one of us; you are one of us. You are us.  However, to ensure the smooth transition of the rebranding, we have established the following guidelines:
On December 8th, between Review a Bad Game Day and Review a Great Game Day will be Review a Tetris Version Day. This event will be mandatory for ALL.
Comments will be monitored closely. We don't ask you to agree with everyone, but we expect you to be respectful of all… and agree with us.
Games to be discussed will have to be preapproved by the editing team, unless it is one of the games on the Accepted list:

Karnov
Tetris
Marie-Kate and Ashley's Sweet 16: License to Drive
Command and Conquer: Red Alert or Yuri's Revenge
Tropico series
Ice Climbers
Street Fighter 2 (gotta love that Zangief)
Breakout
Soviet Strike
Arkanoid
Team Fortress 2
Communist Mutants From Space
Elmo's Number Journey

No discussion of politics: Don't get us wrong, politics are important, but they are complex. We do not want to risk uninformed contributors misrepresenting political ideologies. We also want to avoid misinformation to our readers. When you think about it, some past ideologies based on sharing, community and respect for the workforce have unfortunately been tainted by a negative bias. Should these thoughts filled with complexity cross your mind, tell yourself : "I will work harder!"
To help promoting the new brand, mentions of the previous website name are prohibited. That era is dead, long gone. Blogs will be periodically deleted unless rewritten to follow the above rule.
To ensure that these rules are followed, we will count on existing Community Managers Tom Hall and Eric Hunter, but also on the new Community Ministrel, Jason Lamb. We'll call them Commies, for short.
"Remember, comrades, your resolution must never falter. No argument must lead you astray."
Now, if you'll excuse us, we bought a brand new Eurasian Castle that needs decorating.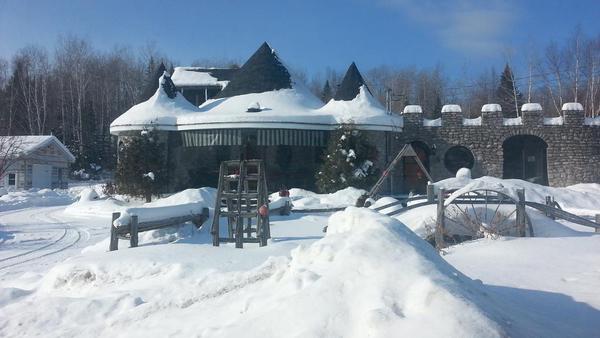 "May the odds be ever in your favor."