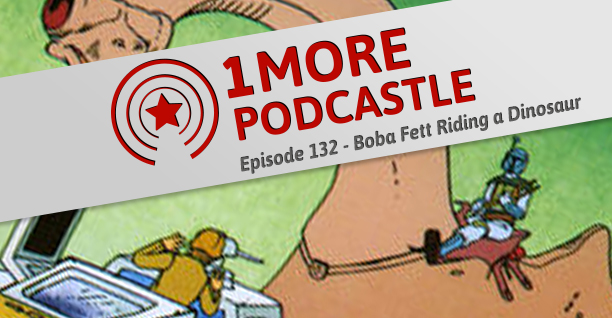 132 – Boba Fett Riding a Dinosaur
Turns out obscure direct-to-vhs Christmas specials don't generally have HD screengrabs. This episode features the excellent Chris Schwartz of 1MoreCastle and Twitter fame!
Our Intro and Outro music is by Ben Landis off his album Adventures in Pixels – "Credits Music for an 8 Bit RPG" (Twitter @thebenlandis)
Our interlude track was "Mellow Sunday" by Aaron White
Show Notes
15:45 – Listener email discussion question "What favorite arcade game are you glad never received a home port, because the technology available on the home console would not have made a good port possible?"
27:12 – "Mellow Sunday" by Aaron White
29:45 – Retro Showdown
34:03 – Bailey's pick "Star Wars: Rogue Squadron" (N64)
35:28 – Hunter's pick "Vindicators" (Arcade)
36:54 – Chris's pick "Ski Free" (PC)
37:55 – That's right, Jason isn't here which means we finally get a guest host who knows something about video games! (j/k) Chris Swartz, writer of the "Rising a Gamer" right here, joins us for his first "officially" appearance on the show.
53:52 – Nothing like a free-for-all to keep your wits about you. We would be humbled if you voted for your favorite game in the poll before (luckily, Jason can't win this week whooo!) and how about you email us? You can be apart of the show. We'd like it, after all.
Play the audio episode: 
Update Required
To play the media you will need to either update your browser to a recent version or update your Flash plugin.