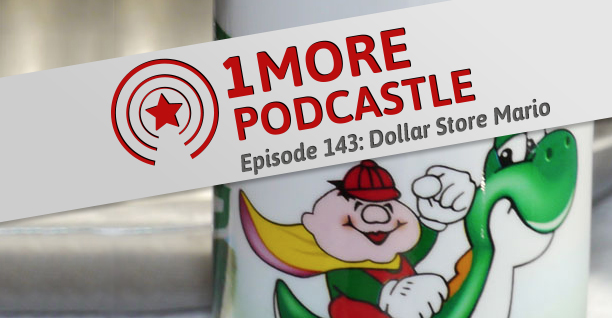 143 – Dollar Store Mario
It could be-a me, Mario!

Our Intro and Outro music is by Ben Landis off his album Adventures in Pixels – "Credits Music for an 8 Bit RPG" (Twitter @thebenlandis)
Our interlude track was Mega Man 2 'Crash and Burn' by  DJ Goyim & DJ Intermodal
Show Notes
19:35 – Listener email discussion question "When a name changes from a Japanese release to a western release (Megaman vs Rockman, Koopa vs Bowser, FF3 vs FF6), do you tend to use the Japanese name or the western name?"
30:00 – "Crash and Burn" by DJ Goyim
32:21 – Retro Showdown!
35:04 – Bailey's pick "Baby Boomer" (NES)
36:22 – Hunter's pick "Jet Grind Radio" (Dreamcast)
37:36 – Jason's pick "Junior's Revenge" (Dragon 32/64)
38:34 – Babies!! They're… Babies!! Or, to be more precise, child protagonists under the age of 18. That's right, the glory years where you didn't have anything to do on the weekends except for heading to your local video game shop, picking out that one title, and hoping it wasn't crap because you would have nothing else to play for the entire weekend. Ah… the good ol' days.
55:29 – Bailey's shooting babies, Jason's bringing more obscure consoles, and I'm still raging on about the Sega Dreamcast? It wouldn't be a 1 More PodCastle episode with we didn't. And it wouldn't be one without your support! Send us those emails, be heard with your vote in the Showdown poll below, and give us your thoughts in the comment section.
Play the audio episode: 
Update Required
To play the media you will need to either update your browser to a recent version or update your Flash plugin.