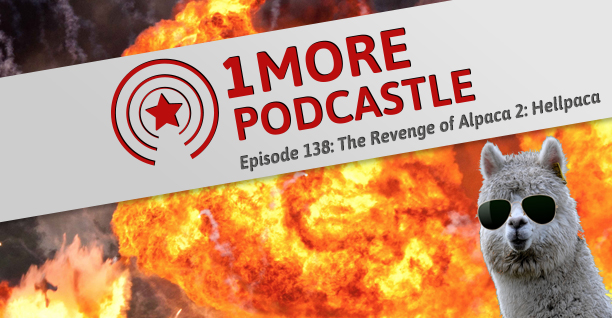 138 – The Revenge of Alpaca 2: Hellpaca
Our Intro and Outro music is by Ben Landis off his album Adventures in Pixels – "Credits Music for an 8 Bit RPG" (Twitter @thebenlandis)
Our interlude track was "The Simple Complex" by UncleBibby
Show Notes
23:15 – Crazy Game Idea!
34:52 – "The Simple Complex" by UncleBibby
38:32 – Retro Showdown!
41:28 – Bailey's pick "Hydlide" (NES)
42:55 – Hunter's pick "Mike Tyson's Punch Out!!" (NES)
44:05 – Jason's pick "Roommania 203" (SEGA Dreamcast)
45:29 – If time has shown us anything, it's that video games that include guns are way better than anything else in the world. True statement. Going back over our library of old video games, we think we've got a few more that we can put under the "gun umbrella" that would benefit for having such firearms. Or arms of fire… fiery arms?
1:03:09 – Sure, Crazy Game Idea is fun and all but what's really fun is hearing from you, the listener. So send us those emails and darn it, we'll even read them on the air. That's right. For the low, low price of sending us mail, you'll be sponsored on the show promoting anything you've got going on. Unless it's the sale of fiery arms. I've heard they are illegal in this dimension.
Play the audio episode: 
Update Required
To play the media you will need to either update your browser to a recent version or update your Flash plugin.