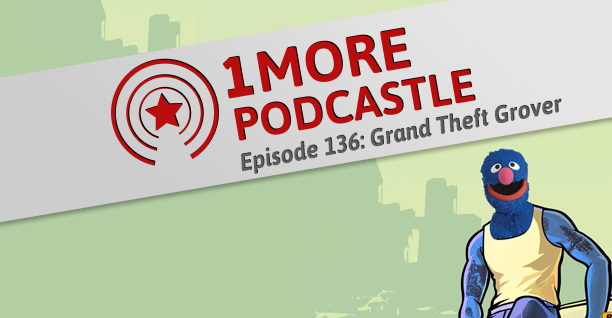 136 – Grand Theft Grover
From the street to your ears.
Our Intro and Outro music is by Ben Landis off his album Adventures in Pixels – "Credits Music for an 8 Bit RPG" (Twitter @thebenlandis)
Our interlude track was "FamiFunk over Breakfast" by RoccoW
Show Notes
22:55 – Listener email discussion question "How did you fine gentlemen and retro game aficionados begin the podcast?"
33:26 – "FamiFunk over Breakfast" by RoccoW
35:03 – Retro Showdown!
43:01 – Bailey's pick "Sesame Street 123 Astro Grover" (NES)
44:17 – Hunter's pick "Spacequest IV: Roger Wilco and the Time Rippers" (PC)
45:31 – Jason's pick "Dynowarz: Destruction of Spondylus" (NES)
46:29 – Captain's log, Stardate 201505.17. We have officially gone 135 episodes without coming up with the idea of "space games" for the Retro Showdown theme. Don't let that fool you. We have loads more of broken light bulbs and face palms in store. Just you wait. Kirk out.
1:04:29 – My God, it's full of stars! And you can be too with your vote for your favorite in the showdown poll. We're finally keeping track so your vote means more now than ever. We can't let the Communist Jason Lamb win, can we? Well, he already is, but that can be stopped! Only you have the power!
Play the audio episode: 
Update Required
To play the media you will need to either update your browser to a recent version or update your Flash plugin.