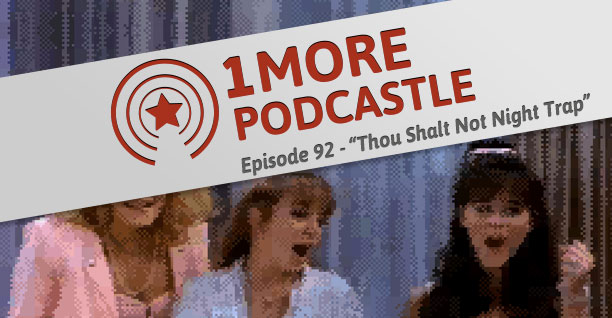 92 – Thou Shalt Not Night Trap
And unto me, yea, HE said:
Turn thyself from the video distractions
of a full motion nature. They
cloud one's judgement and pull one from
the righteous path. They are
not of MY people, not made
in MY honour.
Our Intro and Outro music is by Ben Landis off his album Adventures in Pixels – "Credits Music for an 8 Bit RPG" (Twitter @thebenlandis)
Our interlude track was Paul John – "Sonic the Hedgehog Childhood (Act 2) "
Show Notes
19:10 – Listener email discussion question "What were your experiences (or lack of) with the Turbo Grafx-16 / PC Engine?"
32:20 – Paul John – "Sonic the Hedgehog Childhood (Act 2) "
34:37 – Retro Showdown!
37:05 – Bailey's Pick "Hatris" (NES)
38:21 – Hunter's Pick "Night Trap" (Sega CD)
40:06 – Jason's Pick "Wolfenstein 3D" (PC)
41:05 – 92 episodes? 92 episodes?! Then why not games released in the year 1992? Seems fitting as we slowly approach our 100th episode here at 1 More Castle! '92 was a good year. Please join us, if you would, in the flowing nostalgia.
1:01:57 – Remember, we need some questions to answer. You have a chance to hear the almighty words of Mr. Legend and Lord Lamb say your name on record. That's better than winning the lottery, no one said every. So get those burning questions in.
Play the audio episode: 
Update Required
To play the media you will need to either update your browser to a recent version or update your Flash plugin.