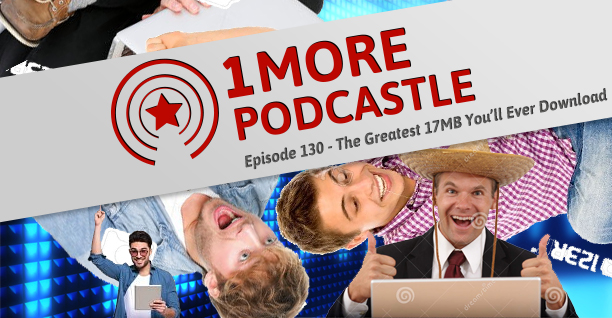 130 – The Best 17MB You'll Ever Download
"[Insert endorsement here]"
– [Insert promoter name here]
Our Intro and Outro music is by Ben Landis off his album Adventures in Pixels – "Credits Music for an 8 Bit RPG" (Twitter @thebenlandis)
Our interlude track was "Killing Bosses" by Gumbel
Show Notes
14:40 – Listener email discussion question "I was wondering what you guys consider the biggest letdown ending to a video game?"
29:13 – "Killing Bosses" by Gumbel
31:46 – Retro Showdown!
35:27 – Bailey's pick "Samurai Showdown 3: Blades of Blood" (PS1)
36:35 – Hunter's pick "Dragon: the Bruce Lee Story" (Genesis)
37:34 – Jason's pick "Barbie Horse Adventures: Mystery Ride" (PC)
38:34 – You know those things in the backgrounds in the games that the artists too so long to create, pixel by pixel, only to wish and hope you could interact with and use in-game? Well, we've picked our favorite inanimate objects that you can't react with in video games this week as our Showdown theme. I know, I know… But seriously, we've done a 130 episodes. It was bound to get weird sooner or later.
51:21 – I can't believe it, but it's only a days away. One of my favorite holidays of the year, Review A Great Game Day is knocking on the door. We would love if you could help celebrate with us! No trolling, no hate. Just the love of your great video game shared with the rest of the world. Be a part of it!
Play the audio episode: 
Update Required
To play the media you will need to either update your browser to a recent version or update your Flash plugin.