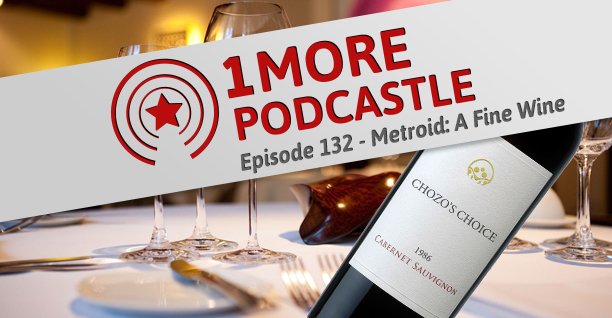 133 – Metroid: A Fine Wine
It's left to age in a morph ball for at least a year!
Metroid graphic from Gibdo_Knight on Photobucket.
Our Intro and Outro music is by Ben Landis off his album Adventures in Pixels – "Credits Music for an 8 Bit RPG" (Twitter @thebenlandis)
Our interlude track was "Thunderstruck" by Big Giant Circles, some1namedjeff
Show Notes
21:27 – Listener email discussion question "Hunter: I remember you once saying you hated the double jump mechanic, but I can't remember why. Please enlighten me, as you may actually sway my opinion with your voice.
Jason: I'll probably agree with you on this, but I hate playing FPS games with a gamepad. Ugh. Could you take a minute and explain to everyone why mouse and keyboard is better than a gamepad for FPS titles.
Bailey: Hotline Miami looks really awesome. If this game had been released in the 80s with all of it's violence intact, would it have set off the public firestorm over gaming violence like Mortal Kombat did, or would it's pixelated graphics keep people from throwing a hissy fit?
One last thing for all of you, describe the perfect ice cream sundae."
34:36 – "Thunderstruck" by Big Giant Circles, some1namedjeff
37:10 – Retro Showdown!
41:10 – Bailey's pick "Metroid" (NES)
42:29 – Hunter's pick "Dragon Breed" (Arcade)
44:04 – Jason's pick "God of War" (PS2)
45:01 – Lights, camera, Action 52! No, no, please no. It's all about games that would make for great movies. Not your Mortal Kombats. Not your Street Fighter: the Movie. Not your Super Mario Bros. The great ones that may never see the light of day.
1:01:57 – Well, things continue to be a surprise here on 1 More PodCastle. And we hope you interact with us. I mean, we have an entire portion that is dedicated on your support. Get your questions to us! And please vote for your favorite title in the showdown poll.
Play the audio episode: 
Update Required
To play the media you will need to either update your browser to a recent version or update your Flash plugin.