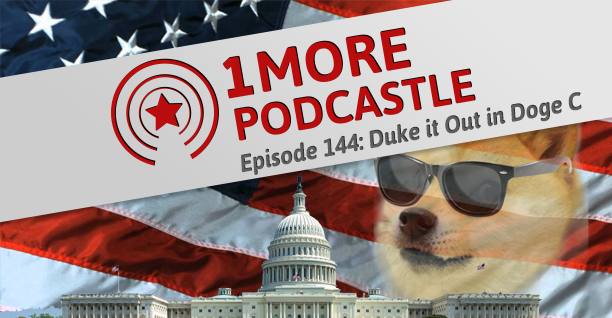 144 – Duke it Out in Doge C
I came here to such kick ass and wow.
And I am much out of wow.

Our Intro and Outro music is by Ben Landis off his album Adventures in Pixels – "Credits Music for an 8 Bit RPG" (Twitter @thebenlandis)
Our interlude track was"Sad Song" by Girlz Melon
Show Notes
23:26 – No have no listener email this week, but that's OK. Since we are counting down to our final episodes, we really want to hear from you! Next episode will be an entire "Listener Email Bag". Send us all of the things you were wanting to be answered but never had the chance. podcast@1morecastle.com.
33:24 – "Sad Song" by Girlz Melon
35:26 – Retro Showdown!
39:05 – Hunter's pick "Mario is Missing" (SNES)
40:56 – Jason's pick "Duke Nukem: Duke it Out in D.C." (PC)
42:13 – Bailey's pick "Zoop" (Genesis)
43:10 – There are those times late, late into the night, maybe you've had one too many episodes of Buffy the Vampire Slayer, and all you're looking for is a fun, not the best, gaming experience. Just one that you can turn on auto, maybe pass out in the middle of, and still have a good time. We pick up the check and race home to play our picks for this week's Retro Showdown.
1:04:01 – I know it's a sad time, but things are always brighter before the dawn. We only have a couple more episodes to go and we really want you to be a part of it. Cast your votes for your favorite in the poll below, send us some emails to contribute to our all "Listener Email" podcast next week, and leave your thoughts on the show in the comment section.
Play the audio episode: 
Update Required
To play the media you will need to either update your browser to a recent version or update your Flash plugin.