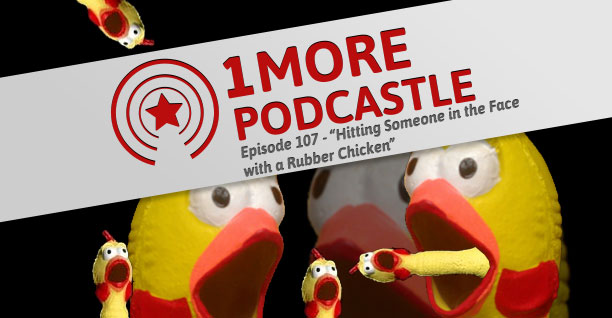 107 – Hitting Someone in the Face with a Rubber Chicken
Obligatory ridiculous stock video.
Our Intro and Outro music is by Ben Landis off his album Adventures in Pixels – "Credits Music for an 8 Bit RPG" (Twitter @thebenlandis)
Our interlude track was "Apple" by Xylo
Show Notes
15:28 Listener email discussion question "Instead of any physical rage over a game, have you ever found yourself saying rather bizarre or humorous things while playing?"
27:32 "Apple" by xylo
29:57 Retro Showdown!
31:51 Bailey's pick "Super Star Wars" (SNES)
33:14 Hunter's pick "Star Wars: Behind the Magic" (PC)
34:51 Jason's pick "Rogue Squadron III: Rebel Strike" (Gamecube)
35:49 Star Wars! Nothing but Star Wars. Give me those Star Wars. Don't let them end. Oh, Star Wars. If they should bar wars. Please let these Star Wars stay.
55:20 Check that calendar because we are having our first official community gaming night on October 22nd, 2014! Be sure to subscribe to our Steam Group as we crush through Team Fortress 2!
Play the audio episode: 
Update Required
To play the media you will need to either update your browser to a recent version or update your Flash plugin.